Materials Selection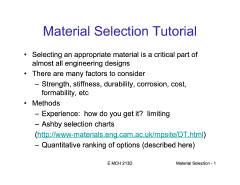 Materials Selection Tutorial Streaming Video Slide Show
This is a narrated video slide show presentation by Prof. Cliff Lissenden.
The following documents accompany the slide show and may be downloaded here:
This slide show is also available as a PDF.
Link to the University of Cambridge material selection and processing resources for design and technology.
Link to Granta Material Intelligence website; this company sells renowned material selection products to both industry and academia.
Also see our Materials Links page on this website for more links to materials data.
The streaming video may be started at any of the 18 slides by choosing one of the video links below.
---
---
This material is based upon work supported by the National Science Foundation under Grant No. 0633602. Any opinions, findings and conclusions or recomendations expressed in this material are those of the author(s) and do not necessarily reflect the views of the National Science Foundation (NSF).
---
© Copyright 1995-2023 — All rights reserved.
Pennsylvania State University
Department of Engineering Science and Mechanics
Send comments about this site to: webmaster@esm.psu.edu
---
Penn State is committed to affirmative action,
equal opportunity, and the diversity of its workforce.
This publication is available on alternative media on request.