Archives
You are currently viewing the archive for January 2005
Posted by:
cah190
on Jan 19, 2005
We are pleased to announce that Sandra McGonigal has joined the ESM staff as budget assistant. Ms. McGonigal has nineteen years of Penn State bookkeeping experience and has worked with DOE, NSF PHS, and USDA budgets to name a few. She has experience in the College of Science (Department of Molecular and Cell Biology; Department of Biochemistry and Molecular Biology, WISE (Women in the Sciences and Engineering Institute) and the Upward Bound Math and Science Center.

Please join us in welcoming her to the department.
Posted by:
cah190
on Jan 10, 2005
Joseph Geddes presented a paper entitled "Shaping of electromagnetic pulsed beams by chiral sculptured thin films" at the Asia Pacific Microwave Conference 2004, in New Delhi, India, December 15-18, 2004. The paper was co-authored with University Distinguished Professor Akhlesh Lakhtakia.
Posted by:
cah190
on Jan 5, 2005
Congratulations to ESM doctoral student Joseph Geddes upon completion of The Penn State Course in College Teaching. The course is offered by The Schreyer Institute for Teaching Excellence and is available to all Penn State teaching assistants, faculty, and instructors who are interested in developing their skills as teachers.
To learn more about this program visit the website at:
http://www.schreyerinstitute.psu.edu/Programs/CCT/
Posted by:
cah190
on Jan 3, 2005
In December, the College of Engineering's Electronic and Computer Services (ECS) unit completed the installation of secure wireless networking systems in 15 buildings on the University Park campus: Hammond, EE East, EE West, Engineering Units A and B, Reber, Fenske, Hallowell, Leonhard, Earth and Engineering Sciences, Research East, Research West and Cato Park. The Transportation Institute and Sackett buildings currently only have selected cover areas pending the completion of network wiring and infrastructure equipment upgrades; work in these buildings is expected to be completed in the spring.
Read the full story on Penn State Live
Posted by:
cah190
on Jan 3, 2005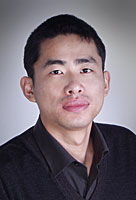 Mr. Fei Wang, ESM Ph.D. candidate, has received the prestigious graduate Alumni Association Dissertation Award. The Award provides funding and recognition to outstanding full-time doctoral students who have passed their comprehensive exams and have received approval of the dissertation. It is considered to be among the most prestigious award available to Penn State graduate students and recognizes outstanding achievement in scholarship and professional accomplishment.
Mr. Wang's research involves investigating the optical responses of slanted chiral sculptured thin films (STFs) to several types of excitation sources, such a plane waves, optical beams and dipoles, and will be useful toward the integration of slanted chiral STFs with semiconductor chips used in the electronics industry.