Archives
You are currently viewing the archive for April 2005
Posted by:
sxc1
on Apr 28, 2005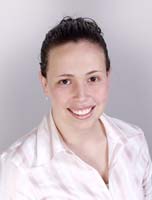 Engineering Science senior Katherine Weaver, has been awarded the prestigious National Science Foundation Graduate Fellowship award. The Graduate Research Fellowship provides three years of support for graduate study leading to research-based master's or doctoral degrees and is intended for students who are at the early stages of their graduate study.
The Graduate Research Fellowship Program (GRFP) invests in graduate education for a cadre of diverse individuals who demonstrate their potential to successfully complete graduate degree programs in disciplines relevant to the mission of the National Science Foundation. Ms. Weaver plans to complete a master's degree in Engineering Science during 2005-2006 and then pursue a doctoral degree beginning fall 2006.
Please congratulate Katherine on her success!
Posted by:
sxc1
on Apr 28, 2005
The Student Society of Engineering Science is pleased to announce their officers for 2005-2006. Beginning with fall semester 2005, the Engineering Science Undergraduate Council will be merged with the Student Society of Engineering Science.

SES President: John Waldeisen
President of Undergrad Council: Carolyn Denome
SES Vice President: Nicholas Fieldhouse
SES Secretary: Kevin Graves
SES Treasurer: Elise Corbin

We wish our new officers the best of success and thank the 2004-2005 officers and members for their contributions!
Posted by:
sxc1
on Apr 18, 2005

LAS VEGAS, April 12, 2005—Barbara Bogue, Affiliate Associate Professor of Engineering Science and Mechanics and former Director of the Women in Engineering Program at The Pennsylvania State University has been selected to receive the 2005 Founders Award.
The award, given by the Women in Engineering Programs and Advocates Network, (WEPAN) recognizes Bogue's dedicated service to the advancement of WEPAN and her scholarship of women's studies that has contributed to an engineering infrastructure conducive to the success of women in the engineering profession. The Founders Award honors a WEPAN member who exemplifies the spirit of the WEPAN founders through her/his extraordinary long-term service to the organization. The award is named for the three founders of WEPAN, Inc. - Suzanne G. Brainard, Jane Zimmer Daniels and Susan Staffin Metz., and includes a $1,000 cash prize, a plaque, and an opportunity to serve as a keynote speaker at the next WEPAN national conference. Bogue was nominated by Dr. Judith A. Todd, P. B. Breneman Department Head Chair of Engineering Science and Mechanics at Penn State.
Posted by:
cah190
on Apr 1, 2005
Jonathan Pitt (M.S., EMch) has received a student award to attend the 13th International Conference on Nuclear Engineering. The conference will be held in Beijing, China, from May 16-20, 2005. Mr. Pitt is advised by Dr. Mirna Urquidi-Macdonald. His paper, "Modeling of Activity Transport in Pressurized Water Reactors," is one among fifty international student papers whose authors were awarded free lodging, registration, local transportation, and technical tours for the conference. Pitt will be presenting his paper via a talk during the conference, in which he will explain how he has used electrochemical principles to model the process of activity transport in pressurized water reactors.
To learn more about the conference, please visit the following site:
http://www.conferencetoolbox.org/ICONE13/index.cfm