Archives
You are currently viewing the archive for August 2005
Posted by:
sxc1
on Aug 29, 2005

Randall German, Brush Professor in Materials, has been named a distinguished alumnus by Ohio State's College of Engineering.
The Ohio State Distinguished Alumni Award was established in 1954 and recognizes graduates' achievements in engineering or architecture through inventions, research, or leadership.
German received his master's in metallurgical engineering from Ohio State in 1971. He will receive his award in September.
A member of the Penn State faculty since 1991, German serves as the director of the Center for Innovative Sintered Products.
He received his bachelor's in materials science from San Jose State University and his doctorate in materials science from the University of California, Davis. He has also received distinguished alumni awards from both institutions.
Source: PSU College of Engineering
Posted by:
sxc1
on Aug 12, 2005
John R. Waldeisen, Engineering Science junior, has been awarded a $5,000 Soozie Courter Sharing a Brighter Tomorrow Hemophilia Scholarship by the
Hemophilia Federation of America
. John is one of 16 undergraduate awardees nationwide. Congratulations!
Posted by:
sxc1
on Aug 9, 2005
Ms. Sandra Watson, Engineering Science and Mechanics budget assistant, has been selected to participate in a new certification program offered at Penn State. The ACOR Certification and Education Series (ACES) program ACES is a two-year; four-semester certification program. The 80 classroom hours learning experience is a combination of workshops, online education, mentoring, and competency assessment -- all leading to certification.

The ACES program will cover topics such as: Proposal Preparation, Budget Building, Advanced Budget Building, F & A Costs, Purchasing Equipment and Other Direct Costs, Travel, Effort Certification, Payroll, Subcontracting, Matching Funds and Cost Sharing, Conflict of Interest, Program Income, Account Set-Up and Pre-Award Costs, Cost Transfers, Internal Service Organizations, No-Cost Extensions, Closeout and Property management and Disposal, Research Compliance and Integrity, and Record Retention.

Posted by:
sxc1
on Aug 8, 2005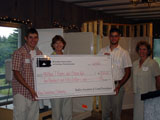 Ms. Kathleen Zimmerman, Engineering Science and Mechanics undergraduate staff assistant, recently worked with the Builders Association of Central Pennsylvania, for the awarding of two scholarships that memoralize the contributions of her late husband, Kevin Zimmerman, who was past president of the Association, CEO of Pinehurst Homes of State College, and a volunteer with Habitat for Humanity.
The $250 scholarships were awarded to two Centre County seniors (Matthew Burns and Brian Kyle) who plan to attend The Pennsylvania College of Technology and study in the building trades. The recipients, shown here with Ms. Zimmerman (far right) were presented with the scholarships at a recent dinner of the Home Builders Association.
Posted by:
sxc1
on Aug 5, 2005
Dr. S. Ashok, Professor of Engineering Science and Mechanics, will present two papers at the International Conference on Solid State Devices and Materials (SSDM 205) in Kobe, Japan, September 13-15, 2005. The presentation titles with co-author names follow.

A. Vengurlekar (Penn State) and S. Ashok, "Dopant Activation Enhancement in Silicon by Hydrogen Treatment."

A. Vengurlekar (Penn State) S. Ashok, E. Ntsoenzok (CNRS, Orleans, France) and N.D. Theodore (Freescale Semiconductor, Mesa, AZ). "Effect of Hydrogen on Helium Implant -induced Nanocavities"
Posted by:
sxc1
on Aug 5, 2005
Mr. Ying Shan, doctoral student in Engineering Science and Mechanics, has won the 2005 American Society for Composites (ASC) Ph.D. Research Scholarship. The award consists of $1,000 to support Mr. Shan's research program, and $750 for travel expenses to attend the 20th Annual Technical Conference hosted by Drexel University in Philadlephia, Pennsylvania, September 7-9, 2005. Mr. Shan will receive a plaque at the conference banquet on Thursday evening, September 8th, at which time the announcement and presentation of his award will be made.
Mr. Shan's doctoral work is being conducted under the direction of Dr. Charles E. Bakis, Professor of Engineering Science and Mechanics.
The mission of the
American Society for Composites
is to provide a communication forum for the engineering and scientific community in composites materials, and to provide the growth of knowledge from interdisciplinary engineering and scientific research in composite materials.