Archives
You are currently viewing the archive for February 2008
Posted by:
csr5
on Feb 27, 2008
Dr. Xianto Li
Penn State Department of Mathematics

Wednesday, March 5, 2008
3:35 p.m.
114 Earth-Engineering Sciences Bldg

Posted by:
jml43
on Feb 25, 2008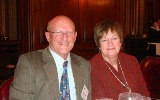 Mr. Glen Chatfield (BS E SC '65), ESM Alumni Advisory Board (AAB) Vice Chair and Chair of the Development and Alumni Relations Committee, and his wife Betsy hosted the first ESM Alumni regional meeting in Pittsburgh, PA, Wednesday, February 20, at the Duquesne Club in downtown Pittsburgh.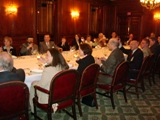 It was a lively evening of meeting fellow alum and learning about the ESM Department that included a talk by Carolyn Denome (BS E SC '07) on the student-centered atmosphere of ESM; the Nano-Bio research activities of Dr. Tony Huang, Assistant Professor of ESM, and a presentation high-lighting ground-breaking departmental research and initiatives presented by Dr. Judy Todd, ESM Department Head.
Posted by:
csr5
on Feb 21, 2008
Dr. Suman Datta
Penn State Department of Electrical Engineering and Materials Research Institute

Wednesday, February 27, 2008
3:35 pm
114 Earth-Engineering Sciences Bldg.
Posted by:
csr5
on Feb 15, 2008
Mr. S. Eric Cregger
Boeing Phantom Works' Materials and Structures Technology 0rganization

Wednesday, February 20, 2008
3:35 p.m.
114 Earth-Engineering Sciences Bldg.

Posted by:
sxc1
on Feb 14, 2008
S

teven S. Schiff, director of the Penn State Center for Neural Engineering, will discuss "A Paradigm for Sustainable Health Engineering" from 1:30 to 3 p.m. Feb. 25 in 404 Old Main, and videoconferenced to E306 Olmsted Building, Harrisburg, and GC624E Hershey. Schiff is speaking as part of the University Health Sciences Council Speaker Series. The paradigm that Schiff proposes also is applicable to improving the diagnosis and treatment and reducing costs in industrialized countries. He will suggest that the ultimate goal should be the sustainability of medicine -– a need for all medical systems, rich or poor.
Contact
Heidi Watson
hwatson@psu.edu
814-867-2259
Posted by:
sxc1
on Feb 12, 2008

Congratulations to Ms. Sandra Watson, ESM Budget Assistant, who has accepted a promotional administrative position with the Materials Research Institute.
Congratulations on your success.
Posted by:
sxc1
on Feb 12, 2008
Once again, Engineering Science seniors are busy preparing for their Senior Thesis Oral Exams.

During the senior year, all students select a focus area of study, complete a capstone project, and write a thesis that integrates the scientific principles of research, design and analysis and applies them to engineering. Each student works with a thesis reserch supervisor as well as their departmental honors advisor.

This year the Thesis Oral Exams are scheduled to be held during the week of March 31 - April 4, 2008.

The presentations are open to the public. A listing of the students and their thesis titles follows below.
Posted by:
sxc1
on Feb 11, 2008
The Fourth Annual ESM Today Graduate Research Symposium was held Saturday, February 9, 2008, in the Engineering Science and Mechanics Department. The Symposium is open to all ESM graduate students. This year a record 19 students made presentations.

The names of the 2008 winners and the titles of their award winning presentations and posters follow below.

Grand Prize
Jinjie Shi, Surface Acoustic Wave, $1,000

Innovation Award
Xiaole Mao, Opto-Fluidic Hybrid system for Miniaturized Flow cytometry: focusing of Cells and Light on Microscale, $1,000

Presentations
First Place
Yuebing Zheng, Artificial Molecular Machine-Based Active Plasmonics, $500
Second Place
Brian Borawski, Design of Multilayer Erosion Resistant Coatings, $300
Third Prize
Padma Puthillath, Ultrasonic Guided Waves for the Inspection of Adhesively Bonded Joints, $200

Posters
First Place
Sean Pursel, Characterization of Vapor Deposited Magnesium Alloys for Bio Absorbable and Hydrogen Storage Materials, $500
Second Place
Nick Chernyy, Multi-taper Spectral Analysis of Stimulation Artifact and Epileptiform Seizure Entrainment Data, $300
Third Place
Nuno Dias, Brian-computer Interface, $200

Posted by:
sxc1
on Feb 8, 2008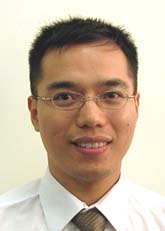 Congratulations to ESM doctoral student Yuebing Zheng for winning an American Academy of Mechanics (AAME) Founder's Prize (2007-2008). The Prize is offered by the Robert M. and Mary Haythornthwaite Foundation in recognition of the many contributions of AAME founder Robert Haythornthwaite.
The Prize for Mr. Zheng's award winning essay on
Artificial Molecular Machines
includes a check for $1,000 that will be presented during the AAME conference in New Orleans, June 19, 2008. A grant of up to $9,000 will also be made available for Mr. Zheng's use.
Mr. Zheng's
research work is
being conducted under the leadership of
Tony Huang,
Assistant Professor of Engineering Science and Mechanics.
You may personally congratulate Mr. Zheng by writing to him at: yzz113@psu.edu.
Posted by:
csr5
on Feb 7, 2008
Dr. Thomas E. Mallouk
Penn State Department of Chemistry

Wednesday, February 13, 2008
3:35 p.m.
114 Earth-Engineering Sciences Bldg.

Posted by:
csr5
on Feb 4, 2008
Dr. Gong Chen
Penn State Department of Biology
The Huck Institutes of the Life Sciences

Wednesday, February 6, 2008
3:35 p.m.
114 Earth-Engineering Sciences Bldg.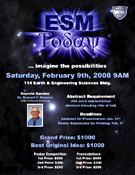 ESM Today 2008
will be held on February 9th. ESM Today started three years ago with the intention to provide a common platform for the students of our department to share/show-case their research work to their fellow graduate students. With the kind co-operation of faculty members, ESM Today has been a tremendous success over the past few years.
Following tradition, Dr. Russell Messier, retired Professor Emeritus Engineering Science and Mechanics, has accepted the invitation of Chief Guest.