Archives
You are currently viewing the archive for December 2008
Posted by:
jml43
on Dec 16, 2008

Dr. Tony Huang
, Assistant Professor in Engineering Science and Mechanics, and colleagues, work in plasmonic devices that integrate the capability of localizing and guiding light in sub-wavelength metallic structures, driving photonics and electronics towards practical applications, has been published by Advanced Materials as a cover image as well as being highlighted on Nature Photonics and ACS Nanotation. Towards these ends, effective translation of plasmonic devices is based upon the requisite fruition of active switching and modulator components. As such, exciting work by Dr. Huang and colleagues has advanced this domain towards this goal by developing a novel photo-responsive liquid crystal/gold nanodisk hybrid as a light-driven plasmonic switch. The switches harnessed the advantages of liquid crystals due to their favorable biorefringence properties which (via photo-irradiation) were capable of modulating the localized surface plasmon resonance (LSPR) of the embedded array of gold nanodisks.
To read more about this article, please visit this
web site
.
**Text adapted from ACS Publications
Posted by:
sxc1
on Dec 10, 2008

Dr. Mst (Kamrun) Kamrunnahar, a Research Associate at the Center for Neural Engineering (CNE) in the Engineering Science and Mechanics (ESM) department, has been awarded a K25 career development grant of $570K for five years starting October 2008 by the National Institute of Neurological Disorders and Stroke (NINDS) at the National Institute of Health (NIH). Her research focus will be to develop optimal, high performance control algorithms for Brain Computer Interfaces (BCI) using human brain signals. This grant, mentored by Professor Steven Schiff in the ESM department at Penn State, will also support her formal training in neuroscience and neural engineering.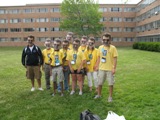 Selina Roman-White, a 7th grade student at the Indian Valley Middle School in Lewistown, Pennsylvania, along with her teammates, competed in the Future Problem Solving Program International (FPSPI) held on the Michigan State University campus summer 2008. Selina's team placed 2nd out of 68 teams internationally in the written booklet portion of the program and 4th in the skit portion of the program.
During a break in the competion, the students participated in a momento exchange including ESM memorabilia and Penn State Paterno masks, shown here.
Posted by:
jml43
on Dec 1, 2008

Dr. Cliff Lissenden
, associate professor in engineering science and mechanics, is to attend the 2nd Asian-Pacific Workshop on Structural Health Monitoring, Melbourne, Australia from December 2 - 4, 2008.