Archives
You are currently viewing the archive for February 2010
Posted by:
jml43
on Feb 25, 2010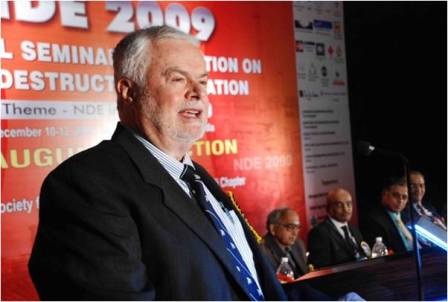 Dr. Joe Rose, Professor in Engineering Science and Mechanics, received the Professor A.K. Rao Memorial Award and gave a lecture at the Non-Destructive Evaluation 2009 conference in Tiruchirapalli, India. National Seminar on NDE is one of the most important engineering conferences in India. The conference provides an effective platform for NDE professionals from all over the world to meet, interact and exchange ideas and information that are of interest to NDE community including specialists from industry, research institutions and academia. Seminar will attract eminent NDE experts from various national and international industries / institutions.
Posted by:
jml43
on Feb 19, 2010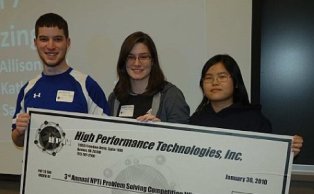 Allison Yau, undergraduate student in engineering science and mechanics, was on the winning High Performance Technologies, Inc. (HPTi) competition team. The HPTi Problem Solving Competition is a collaborative effort between HPTi and The Pennsylvania State University, College of Information Sciences and Technology (IST) and Department of Computer Science and Engineering (CSE) to host a competition focused on creative Problem Solving. The competition is based on the ability for teams to devise creative, innovative solutions to various challenges. Problems will be challenging, and more importantly, fun to do. Your ability to work together effectively as a team will be crucial to success. Allision is advised by Dr. Cliff Lissenden, professor in engineering science and mechanics. Congratulations Allison!
Posted by:
jml43
on Feb 19, 2010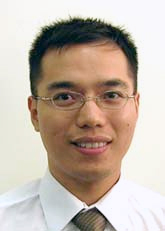 Yue Bing Zheng, a doctorate candidate in engineering science and mechanics, has recently been awarded the Penn State Alumni Association Dissertation award. The award provides funding and recognition to outstanding full-time doctoral students who have passed their comprehensive exams and have received approval of the dissertation topic in their final year. This award is considered to be among the most prestigious available to Penn State graduate students and recognizes outstanding achievement in scholarship and professional accomplishment.
Posted by:
jml43
on Feb 18, 2010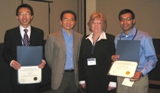 Bala Krishna Juluri, graduate student in engineering science and mechanics, has been selected to receive the Rustum and Della Roy Innovation in Materials Award. Bala's efforts in interdisciplinary materials research will be recognized during Materials Day on March 31. Bala is advised by Dr. Tony Huang, assistant professor in engineering science and mechanics. Congratulations Bala!
Posted by:
jml43
on Feb 18, 2010
Brian Reinhardt, masters student in engineering science and mechanics, is the 2010 Student Travel Reimbursement Award recipient. As a winner of this award, Brian received a free registration to this year's Research Symposium and Spring Conference in Williamsburg, VA. This achievement will be recognized during the Symposium at the Annual Research Council dinner on Tuesday, March 23. Congratulations Brian!
Posted by:
jml43
on Feb 15, 2010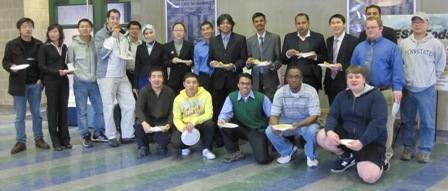 The Annual ESM Today Graduate Research Symposium was held Saturday, February 13, 2010, in the Engineering Science and Mechanics Department. The Symposium was open to all ESM graduate students. This year, the symposium honored Dr. Nicholas J. Salamon, Professor Emeritus of Engineering Science and Mechanics. The topic of his presentation, "Engineers! Civilization And? Wilderness," described the responsibilities of engineers to develop sustainable technologies that will preserve our environment, heritage and culture.
The 2010 winners and their award winning presentations and posters follow below.
Grand Prize
Drew Pulsifer, Improved Coatings On Non-Planar Biotemplates By A Modified Conformal-Evaporated-Film-By-Rotation Technique , $1,000
Innovation Award
Xiaole Mao Ph.D. candidate in BioEngineering, A Massive-Producible, High-Throughput, Multi-Parametric Microfluidic Flow Cytometry Chip For Point-Of-Care Clinical Diagnosis, $1,000
Presentations
First Place
Nicholas Chernyy, Stimulus Artifact Subtraction for Neural Interfaces, $500
Second Place
Hongyan Yuan, An Efficient One-Particle-Thick Fluid Membrane Model, $300
Third Prize
Lai Wei, Thickness-Controlled Hydrophobicity Of Fibrous Parylene-C Films, $200
Ahmad Nawaz, Electrical Characterization of Gallium Nitride Nanowires, $200
Posters
First Place
Abdalla Nassar, Numerical Model of a Laser-Sustained Argon-Plasma, $500
Second Place
Michael Lapsley, On-Chip Optofluidic Interfermometer for Highly Sensitive Refractometry, $300
Third Place
Daniel Ahmad, Oscillatory Microfluidic gradient Generator via Oscillating Bubbles, $200
Mengqian Lu, Optically Tunable Devices by Integrating Liquid Crystal in Photonic Crystal Structure, $200
Posted by:
jml43
on Feb 9, 2010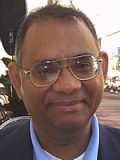 Akhlesh Lakhtakia, Charles Godfrey Binder Professor in Engineering Science and Mechanics, has been named the 2010 recipient of the SPIE Technology Achievement Award.
The SPIE Technology Achievement award is awarded annually to recognize outstanding technical accomplishment in optics, electro-optics, photonic engineering, or imaging. The recipient(s) shall have contributed significantly to the advancement of one or more of these areas with specific demonstration(s) or application(s).
The SPIE Awards Committee has made this recommendation in recognition of Akhlesh's conceptualization of sculptured thin films, wide-ranging theoretical and experimental research in optics on these materials, and for characterizing them as nanoengineered metamaterials.
Professor Lakhtakia will receive the award at an SPIE meeting of his choice.
Posted by:
jml43
on Feb 9, 2010
ESM Graduate Student Council President Abdalla Nassar invites you to attend the 6th Annual ESM Graduate Student Symposium, 8:00 a.m., Saturday, February 14, 2009. The purpose of the symposium is to showcase research activities of Engineering Science and Mechanics graduate students. First through third prizes will be awarded to the best in the paper and poster competitions. This year's Symposium honors ESM Professor Emeritus Nicholas Salamon.

Posted by:
jml43
on Feb 1, 2010
Hongyan Yuan and Changjin Huang, graduate students in Engineering Science and Mechanics, will present at the ASME 2010 First Global Congress on NanoEngineering for Medicine and Biology from February 8 – 9 2010. The conference will focus on the integration of Engineering Sciences, Mechanical Engineering and Nanotechnology to aid in addressing fundamental problems in Biology and Medicine and in developing devices for the early detection, imaging and cure of diseases. The conference will be held in Huston, Texas. Hongyan and Changjin are advised by Sulin Zhang. To learn more about this first meeting, please visit their
website
.