Archives
You are currently viewing the archive for August 2011
Posted by:
sls60
on Aug 29, 2011
E SC/E MCH 514 Seminar

August 31, 2011
3:35pm - 4:25pm
114 EES Building

Mirna Urquidi-Macdonald
Department of Engineering Science and Mechanics, PSU
Posted by:
jml43
on Aug 21, 2011
Kamrun Kamrunnahar, graduate student in Engineering Science and Mechanics, will present a paper entitled "A square root ensemble Kalman filter application to a moto-imagery brain-computer interface," at the 33rd Annual International Conference of the IEEE Engineering in Medicine and Biology Society (EMBC). The conference will be held in Boston, MA from August 30 through September 3. This conference is an annual event that brings together the researchers from all over the world in quantitative fields with a view to medicine and biological applications. To learn more about the conference please visit their
web site
.
Posted by:
jml43
on Aug 20, 2011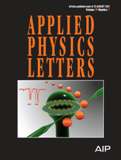 Dr. Melik Demirel
, Associate Professor in Engineering Science and Mechanics, was highlighted on the cover of August 15 Applied Physics Letters publication. Demirel, along with three other collaborators demonstrated a biosensing approach which, for the first time, combines the high sensitivity of whispering gallery modes (WGMs) with a metallic nanoparticle-based assay. They provided a computational model based on generalized Mie theory to explain the higher sensitivity of protein detection. Furthermore, they quantitatively analyzed the binding of a model protein (i.e., Bovine Serum Albumin) to gold nanoparticles from high-Q WGM resonance frequency shifts, and fit the results to an adsorption isotherm, which agrees with the theoretical predictions of a two-component adsorption model.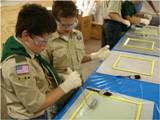 The Composites Manufacturing Technology Laboratory hosted a tour of local Boy Scouts (Troop 31) working on Bicycling and Composite Materials merit badges on Aug 16, 2011. The tour was hosted by Dr. Charles Bakis, Distinguished Professor in Engineering Science and Mechanics, and Dr. Tom Juska, Research Associate at the Applied Research Laboratory.
Located in State College, Troop 31 is part of the Nittany Mountain District in the BSA's Juniata Valley Council. The tour included a hands-on session where scouts laid up glass/epoxy composite panels, witnessed filament winding, and learned about composite bicycles from Mr. Eric Scott, owner of the The Bicycle Shop in State College.

A new senior level technical elective has been added to the Engineering Science curriculum this fall. Cross-disciplinary teams of four to five students will develop innovative solutions for real-life design-and-build projects proposed by industry, laboratories, and academia.
ESM is the latest Department in the College of Engineering to join the Learning Factory, an award-winning educational program (http://www.lf.psu.edu/) that solicits projects, assigns student teams, and coordinates competition among the various teams. Team members are drawn from Engineering Science and Mechanics, Computer Science and Engineering, Mechanical and Nuclear, Electrical, Aerospace, Energy, Material Science, Industrial and Manufacturing, Agricultural and Biological, and Chemical Engineering.
The scope of a project must be consistent with a semester-long effort by a 4 to 5 member team. Typically, such effort includes: negotiating specifications; design; review; prototype construction; recommendations for further development; marketing; and a final presentation to the sponsor. A minimal donation of $3000 is made by the sponsor to cover materials for the team and to offset administrative expenses. Proprietary information may be accommodated.
If you have design and prototype projects that your company or laboratory has just not been able to staff, you would like to have a new, innovative, cross-disciplinary approach to the solution of an old problem, or you would like to strengthen your contacts with top students in ESM and other Departments in the College of Engineering, than this may be just the solution. Contact
Mike Erdman
for more details.
Posted by:
jml43
on Aug 15, 2011
Muhammad Faryad, Graduate Student in Engineering Science and Mecahnics, will travel to San Diego, California in August 2011 to present a paper at the SPIE Optics and Photonics 2011 Symposium. Muhammad is advised by Professor Akhlesh Lakhtakia, Charles Godfrey Binder Professor in Engineering Science and Mechanics. To learn more about the meeting, please visit their
web site
.
Posted by:
jml43
on Aug 11, 2011
Dr. Akhlesh Lakhtakia
, Charles Godfrey Binder Professor in Engineering Science and Mechanics, will travel this month to San Diego, California to attend the Board of Editors meeting of SPIE. During his stay he will be presenting an invited paper on "Surface multiplasmonics." To learn more about the meeting, please visit their
web site
.
Posted by:
jml43
on Aug 11, 2011
About 40 per cent of the world's population is at risk for malaria. An estimated 300 million to 500 million people worldwide contract the disease each year, and as many as 1 million of them die each year, a large majority of them are children under five.
Recent reports from Cambodia suggest that currently effective anti-malarial drugs are beginning to lose their effectiveness as the most virulent malaria strain develops resistance.
Pennsylvania State University materials scientists Dinesh Agrawal and Jiping Cheng are working to develop a process which uses low-power microwaves to destroy malaria parasites in the blood minus any medication. Their research has been further boosted by a donation from The Gates Foundation.
Posted by:
jml43
on Aug 2, 2011

The treatment of hydrocephalus in African children and the effects of climate on newborn infections will be the focus of testimony when Steven Schiff, director of the Penn State Center for Neural Engineering and Brush chair professor of engineering, testifies before the U.S. House of Representatives Committee on Foreign Affairs, Subcommittee on Africa, Global Health and Human Rights, at 2 p.m. on Tuesday (Aug. 2)
Hydrocephalus -- water on the brain -- is one of the most common treatable neurological conditions in childhood. Recently, Schiff and other researchers have shown that the majority of childhood hydrocephalus in East Africa, and perhaps much of the developing world, occurs after infections. According to Schiff, the broad implication is that most of the world's hydrocephalus is preventable.
Recent analysis of the magnitude of the economic burden of postinfectious hydrocephalus on sub-Saharan African societies, where more than 100,000 cases arise each year, detailed the enormous impact.
The hearings will highlight novel surgical techniques that have shown to be effective alternatives to the implantation of fluid shunts in children with hydrocephalus in developing countries. Also highlighted will be ongoing efforts to identify the microbes responsible for causing these infections, the routes of infection during the neonatal period and the emerging recognition from satellite climate measurements that rainfall has an important role in influencing the infection incidence.
Schiff, who holds appointments in the Departments of Neurosurgery and Engineering Science and Mechanics, and Physics, will be joined by Benjamin Warf, director of the Neonatal and Congenital Anomalies Neurosurgery, Department of Neurosurgery, Children's Hospital Boston, and Jim Cohick, senior vice president of specialty programs, CURE International. The session, "Hydrocephalus Treatment in Uganda: Leading the Way to Help Children," can be viewed at this
web site
.
Posted by:
jml43
on Aug 2, 2011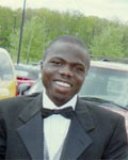 While many people can't think far enough ahead to plan tonight's dinner, Adebayo Adejare, a sophomore in engineering science and mechanics, is planning a better future for his grandchildren.
The Albrightsville, Pa., native's efforts in sustainability helped secure him a spot as one of 20 students selected from across the country as one of the nation's top rising young leaders in the clean energy sector who will participate in Focus the Nation's Recharge! Retreat August 21-26 on Oregon's Mt. Hood.
To apply, candidates write an essay explaining their passion, dedication and unique contributions to increasing clean energy in America. Focus the Nation, a national nonprofit that supports rising leaders in launching careers that accelerate the transition to clean energy, then selects and funds the leaders—five each in the categories of Technician, Innovator, Politico, and Storyteller—to attend the retreat. Adejare will join the other four Innovators, represented by students drawn to careers as engineers, scientists, inventors and entrepreneurs who discover and demonstrate the power of clean energy solutions.
He remembers the phone call he received earlier this month, letting him know he would be heading to Oregon. "I was just outside my hometown when I got the call. I applied in May, but I wasn't really sure I had a chance, since my only credential was being an Eco-Rep on campus last year. I probably didn't sound too excited, but I was."
The retreat, designed to encourage today's young energy leaders to collaborate on clean ideas and meet today's crop of community energy ambassadors, includes activities such as: hiking Elliot Glacier, which has experienced 60 percent snowpack loss since 1982; touring the Boardman Coal Plant, scheduled to close by 2020; and visiting Biglow Canyon Wind Farm, which powers 125,000 homes in Oregon. Adejare says he most looks forward to hiking Elliot Glacier because he's never seen one before.
As an Eco-Rep in East Halls last year, Adejare promoted sustainable behavior by showing fellow students environmentally friendlier ways of doing everyday things. He explains, "For instance, we ask students to dine in instead of dining out, which reduces packaging."
Adejare ties his passion for sustainability to his choice of major, "Engineering science and mechanics provides a well-rounded education, since students get a little bit of experience in all the different sciences. This helps a great deal because my focus is unique – I want to work with solar panel technology, increase solar panel efficiency, and make the panels more mainstream with better designs. I'd also like to try to make solar panels out of less conventional materials like plastic."
He says he hopes to bring back new ideas from his Recharge! Retreat experience and share them with the Eco-Reps, perhaps branching the group out to include community members.
Adejare adds, "Sustainability really is about the future. It's about making a world we'd love to live in. The actions we do now have a large impact. To have a cleaner tomorrow we have to make the right choices by conserving resources today. It's not just for you, it's for your family, your kids, and grandkids."
**Source: Penn State Live