Archives
You are currently viewing the archive for January 2012
Posted by:
sls60
on Jan 30, 2012
Erwin A. Vogler
Department of Materials Science and Engineering & Department of Bioengineering, PSU

Wednesday, February 1, 2012
3:35pm - 4:25pm

114 EES Building
Posted by:
jml43
on Jan 26, 2012

People with Parkinson's disease swing their arms asymmetrically -- one arm swings less than the other -- when walking. This unusual movement is easily detected early when drugs and other interventions may help slow the disease, according to Penn State researchers who used inexpensive accelerometers on the arms of Parkinson's disease patients to measure arm swing.
"Scientists have known for some time that people with Parkinson's disease exhibit reduced arm swing during the later stages of the disease, but no one had come up with an easy way to measure this," said Stephen Piazza, associate professor of kinesiology. "We found that not only do people with the disease exhibit reduced arm swing, but they also exhibit asymmetric arm swing, and this asymmetric arm swing can easily be detected early in the disease's progression."
No cure for Parkinson's disease exists, but according to Piazza, if taken early, certain drugs can improve some of the disease's symptoms and even reduce the likelihood of death, making early diagnosis important. Some people also believe that changes in nutrition and other lifestyle factors can modify the progression of the disease.
The scientists found significantly higher acceleration asymmetry, lower cross-correlation between the arms and reduced synchronization of the arms in the early Parkinson's disease patients. According to Joseph Cusumano, professor of engineering science and mechanics, the lower cross-correlation and reduced synchronization suggest that the arm movements are poorly coordinated.
"In other words, if I measure the location of your right arm, it is difficult to use that measurement to predict the location of your left arm," he said. "It is well known that Parkinson's disease has an impact on how people move -- neurologists have been using this fact as the basis for clinical examinations for a very, very long time -- but here we are for the first time precisely quantifying how the disease not only affects the relative amount of limb movements, but also how well coordinated in time these movements are."
To read more, click
here
.
**Source: Penn State Live
Posted by:
jml43
on Jan 26, 2012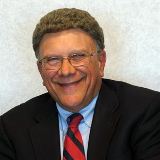 Hollenbach Construction, Inc., a professional general contractor and construction management organization that develops and delivers client-focused solutions to meet facility needs has named Glenn Ebersole (MS E SC '73) as its Director of Strategic Business Development. Mr. Ebersole will be in charge of providing leadership in strategic business development and marketing for the company.
"The addition of Glenn Ebersole to our team further strengthens our ability to meet the needs of our clients," noted Tim Little, President of Hollenbach Construction. "Glenn is a multi-faceted professional, a guide and facilitator and has a comprehensive and strategic understanding of the business development, marketing and sales that will greatly benefit our clients, team members and Hollenbach Construction."
Before joining Hollenbach Construction, Mr. Ebersole was the Director of Strategic Marketing for LMA Consulting Group where he led the strategic marketing efforts. Prior to that he was the founder and chief executive of J.G. Ebersole Associates, an independent professional engineering, marketing and project management consulting firm where he provided professional services as an Owner's Project Manager / Representative for a diverse list of clients and projects including several that received local, regional and national recognition.
Posted by:
sls60
on Jan 23, 2012
Dinesh Agrawal
Materials Research Institute & Department of of Engineering Science and Mechanics, PSU

Wednesday, January 25, 2012
3:35pm - 4:25pm

114 EES Building
Posted by:
sls60
on Jan 17, 2012
Sabih Hayek
Department of Engineering Science and Mechanics, PSU

Wednesday, January 18, 2012
3:35pm - 4:25pm

114 EES Building
Posted by:
jml43
on Jan 5, 2012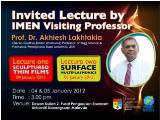 Dr. Akhlesh Lakhtakia
, Charles Godfrey Binder Professor, visited Universiti Kebangsaan Malaysia (National University of Malaysia), where he presented two lectures. The first lecture, entitled Sculptured Thin Films, was delivered on January 4, 2012. The second lecture, entitled Surface Multiplasmonics, was delivered the following day.