Archives
You are currently viewing the archive for March 2012
Posted by:
jml43
on Mar 27, 2012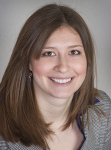 Abigail Dodson, undergraduate student in Engineering Science and Mechanics, was honored as being named as first runner up to receive the 2012 Joelle Award at a reception and dinner celebration Monday, March 26 at the Nittany Lion Inn.
The Joelle Award for Women in Engineering Leadership recognizes outstanding leadership contributions by a woman student to the College of Engineering. The award is endowed by Jane and Edward Liszka in honor of Jane Liszka's parents, Joseph and Eleanor Munafo. (Joelle is a combination of their first names). Heather Liszka, daughter of Jane and Edward Liszka, is a 1994 Engineering Science graduate, former SWE president, and founder of SCROUNGE, a computer reclamation program. Heather is currently a family practice physician. The Joelle recipient is an upper-level woman engineer who has an outstanding record of leadership, service, and citizenship that positively affect the climate for women in the College of Engineering and/or in the University.
Posted by:
sls60
on Mar 26, 2012
Akhlesh Lakhtakia
Department of Engineering Science and Mechanics, PSU

Wednesday, March 28, 2012
3:35pm - 4:25pm

114 EES Building
Posted by:
sls60
on Mar 21, 2012
Dr. Roderic Lakes
Department of Engineering Physics
University of Wisconsin Madison

Wednesday, March 21, 2012
3:35pm - 4:25pm
114 Earth- Engineering Sciences Building
Posted by:
jml43
on Mar 14, 2012
Dr. Akhlesh Lakhtakia
, Charles Godfrey Binder Professor in Engineering Science and Mechanics, chaired the conference Bioinspiration, Biomimetics, and Bioreplication II, held March 12-14, 2012 in San Diego, CA. He also presented two papers. The first, entitled "Towards bioinspired parylene-C coatings of implant surfaces," was co-authored with Dr. Lai Wei, his former PhD student, who now works for Lam Research Corporation. The second, entitled "Toward pest control via mass production of realistic decoys of insects," was co-authored with ESM graduate student Drew Pulsifer, Drs. Raúl Martín-Palma (Adjunct Professor, Materials Science and Engineering), Thomas C. Baker (Distinguished Professor, Entomology), and Jayant Kumar (Professor of Physics & Applied Physics, University of Massachusetts Lowell). Moreover, Dr. Lakhtakia was a co-author of the paper entitled "Arrays of bioinspired compound lenses for solar cells," which was presented by Dr. Francisco Chiadini (University of Salerno, Italy) and also co-authored by Drs. Antonio Scaglione (University of Salerno) and Vincenzo Fiumara (University of Basilicata, Italy).
Posted by:
sls60
on Mar 12, 2012
Bernhard R. Tittmann
Department of Engineering Science and Mechanics, PSU

Wednesday, March 14, 2012
3:35pm - 4:25pm

114 EES Building