Archives
You are currently viewing the archive for September 2012
Posted by:
jml43
on Sep 26, 2012
Akhlesh Lakhtakia, Charles Godfrey Binder professor of engineering science and mechanics, presented a keynote lecture entitled "Nanotechnology and Metamaterials: Conceptualization and Intersection for New Opportunities" on September 20, 2012 at the 10th IEEE International Conference on Semiconductor Electronics. Please see the conference
website

for further details.
Posted by:
jml43
on Sep 24, 2012
Coating a bone graft with an inorganic compound found in bones and teeth may significantly increase the likelihood of a successful implant, according to Penn State researchers.
Natural bone grafts need to be sterilized and processed with chemicals and radiation before implantation into the body to ensure that disease is not transmitted by the graft. Human bones have a rough surface. However, once a graft is sterilized the surface changes and is not optimal for stimulating bone formation in the body.
"We created a method for resurfacing bone that had been processed, and resurfacing that bone so that it is now nearly as osteogenic as unprocessed bone -- meaning it works nearly as well as bone that hadn't been processed at all," said Henry J. Donahue, Michael and Myrtle Baker Professor of Orthopaedics and Rehabilitation, Penn State College of Medicine. "That's the bottom line."
Donahue, who is also a faculty member of the Huck Institutes of the Life Sciences, and Alayna Loiselle, postdoctoral fellow in orthopaedics and rehabilitation, Penn State College of Medicine, teamed up with Akhlesh Lakhtakia, Charles Godfrey Binder Professor of Engineering Science and Mechanics. They developed a way to create a rough surface on bone grafts that is similar in texture to the surface of an untreated bone. This similarity promotes healing in the bone.
Posted by:
jml43
on Sep 22, 2012

Dr. Osama Awadelkarim, Professor in Engineering Science and Mechanics will travel at the end of September to Yokohama, Japan to present and attend at the International Union of Materials Research Society and the International Conference on Electronic Materials meetings.
Posted by:
jml43
on Sep 11, 2012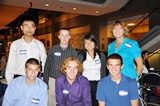 Dr. Christine Masters, Associate Professor in Engineering Science and Mechanics, attended the Gateway Scholars dinner in September. The dinner gave Schreyer Honors College an opportunity to network with faculty in other departments aside from their own.
Posted by:
jml43
on Sep 10, 2012

Dr. Jian Xu, Associate Professor in Engineering Science and Mechanics traveled in September to China to attend the 14th Annual Meeting for International Forum on LED lighting. While in China, he delivered an invited talk on LED's for solid state lighting.
Penn State, North Carolina State University, the University of Virginia and Florida International University will collaborate on a national nanotechnology research effort to create self-powered devices to help people monitor their health and understand how the surrounding environment affects it, the National Science Foundation (NSF) announced Sept. 6.

The NSF Nanosystems Engineering Research Center for Advanced Self-Powered Systems of Integrated Sensors and Technologies (ASSIST), to be headquartered on NC State's Centennial Campus, also includes five affiliated universities and about 30 industry partners in its global research consortium. ASSIST will be funded by an initial five-year $18.5 million grant from the NSF.

ASSIST researchers will use nanomaterials and nanostructures — a nanowire is thousands of times thinner than a human hair — to develop self-powered health monitoring sensors and devices that operate on small amounts of energy. ASSIST researchers will make devices from thermoelectric and piezoelectric materials that use body heat and motion, respectively, as power sources.

"The ASSIST program offers an opportunity to utilize core Penn State strengths in materials, nanofabrication, low power circuits and biobehavioral health to advance human health. This is an extremely exciting opportunity for the researchers involved," said Susan Trolier-McKinstry, Penn State professor of materials science and engineering.

"Currently there are many devices out there that monitor health in different ways," said Veena Misra, the center's director and professor of electrical and computer engineering at NC State. "What's unique about our technologies is the fact that they are powered by the human body, so they don't require battery charging."

These devices could transform health care by improving the way doctors, patients and researchers gather and interpret important health data. Armed with uninterrupted streams of heart rate readings, respiration rates and other health indicators, sick people could better manage chronic diseases, the elderly could be monitored from a distance and healthy people could make better decisions to keep themselves fit.

For example, personalized exposure data for environmental pollutants such as ozone and carbon monoxide could help a child suffering from asthma avoid an environmental trigger for an attack. Miniaturized devices the size of a pen or wristwatch will make compliance simpler and therefore more likely, resulting in better health outcomes and reduced health costs to society.
Posted by:
jml43
on Sep 4, 2012
Dr. Akhlesh Lakhtakia
, Charles Godfrey Binder Professor of Engineering Science and Mechanics,
visited the National University of Mongolia (NUM), Ulaan Baatar, from August 21 to 29, 2012. On behalf of the International Council of the Optical Society of America, Professor Lakhtakia interacted with NUM faculty and graduate students. He also delivered four lectures entitled: Nanotechnology: Opportunities and Challenges, Optics of Sculptured Thin Films, Surface Multiplasmonics, and Engineered Biomimicry. To learn more, please visit this
web site
.