Archives
You are currently viewing the archive for December 2012
Posted by:
jml43
on Dec 27, 2012

Dr. Osama Awadelkarim, Professor in Engineering Science and Mechanics, will travel in early January 2013 to Jeddah and Cairo to discuss research with Taibah University partners. Also, he has been invited to participate in the Arab Science and Technology Foundation board meeting.
Dear Alumni and Friends,
The department of Engineering Science and Mechanics wishes you and your families a very happy holiday season and New Year. We thank you for all your contributions and support to the department and look forward to continuing our work together in 2013!
Also, please check out our fall 2012 newsletter
online at our alumni homepage
; a copy will be delivered to your address soon.
Happy Holidays!
Judy Todd, P.B. Breneman Chair and Department Head
Jason Lyons, Coordinator for Alumni and Development
ESM Faculty and Staff
Posted by:
jml43
on Dec 17, 2012
Mike Erdman, Walter L. Robb Director of Engineering Leadership Development and Instructor in Engineering Science, advised a team that received third place in the fall 2012 Senior Capstone Design Project. Congratulations Mike and team!
Posted by:
jml43
on Dec 17, 2012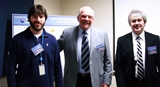 Jay Patten, Graduate Student in Engineering Science and Mechanics and President of the Graduate Student Council for the College of Engineering, presented a poster in December to Vice Admiral Konetzni, United States Navy among others. The Vice Admiral spoke highly of Jay's research and was pleased to have taken something away from the poster presentation. Jay is under the advising of Greg Dillon of ARL.
Posted by:
jml43
on Dec 6, 2012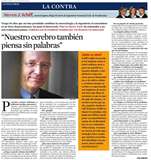 Dr. Steven Schiff, Brush Chair Professor and Director of the Center for Neural Engineering at the Department of Engineering Science and Mechanics, has been highlighted in a newspaper article in Spain. To review the article, please visit their
web site
.
Posted by:
jml43
on Dec 1, 2012

Dr. Christine Masters, Associate Professor and Undergraduate Program Coordinator, traveled in early December to the University of Southampton in the United Kingdom. The trip was to identify procedures for study abroad exchange with Penn State Engineering Science students.