Archives
You are currently viewing the archive for June 2013
Posted by:
rll19
on Jun 21, 2013
Dr. Akhlesh Lakhtakia, Charles Godfrey Binder Professor in Engineering Science and Mechanics, traveled to Whistler, British Columbia in mid-June to present an invited talk at the Optical Society of America's 2013 Optical Interface Coatings conference. He will be presenting on "Bountiful Surface Waves with Sculptured Thin Films."
Posted by:
rll19
on Jun 18, 2013
Dr. Akhlesh Lakhtakia, Charles Godfrey Binder Professor in Engineering Science and Mechanics, recently published a book with John Polo and Tom Mackay entitled
"Electromagnetic Surface Waves: A Modern Perspective.
" The book focuses on surface multiplasmonics, Tamm waves, Dyakonov waves and Dyakonov-Tamm waves, using a 4x4 matrix approach.
Posted by:
rll19
on Jun 14, 2013

Dr. Tony Huang, Professor in Engineering Science and Mechanics, was selected to receive an American Asthma Foundation Scholar Award. This award is targeted at investigators at nonprofit institutions in the United States who are within 10 years of their first independent faculty appointment. Each year, less than 10 researchers are selected across the USA to receive this award. Each awardee will also receive a $450,000 research fund for three years.
Posted by:
rll19
on Jun 11, 2013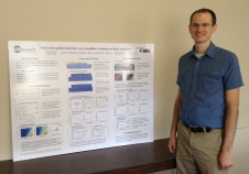 Jason Bostron won the Student Poster Competition at the Annual Spring Workshop for the Center for Acoustics and Vibration (CAV). The workshop is a two day event held at the Nittany Lion Inn and attended by corporate sponsors, international liaisons, US government liaisons and Penn State CAV faculty and students. Graduate students from a variety of engineering disciplines in the fields of acoustics and/or vibration submitted posters for the session held at the Café Laura on the University Park campus. Bostron's poster was on the use of ultrasonic guided interface waves for bond evaluation of coatings on metal structures. He is pursuing a Ph.D. in Acoustics and is advised by Dr. Joseph Rose.
Posted by:
rll19
on Jun 7, 2013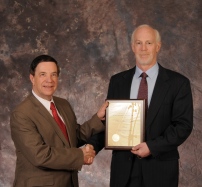 Dr. Albert E. Segall , Professor of Engineering Science and Mechanics, received the Society of Tribologists and Lubrication Engineers Fellow award at the 2013 Annual Meeting and Exhibition in Detroit, MI. He was also a session chair of the Tribotesting I session and presented a paper on "Wear and Reparability Evaluations of a New Class of Super Self-Lubricating hBN-Ni Coatings".
Posted by:
rll19
on Jun 5, 2013
The Fall 2012 project team from the ESC 497 Multidisciplinary Design Project course was honored with the Most Innovative Video award at the College of Engineering Design Showcase in late April.
The winning team developed an interactive display demonstrating the workings of a pneumatic tube for the Discovery Space children's museum in State College. The display had two coils of transparent tubing and allowed the children to pick a path – either a dollar bill flowing to a collection box, or a colored ping-pong ball that is launched toward the ceiling requiring the kids to chase it around the room.
Team members were Austin Darigo, Melanie Macek, Daniel Severns, and John Sonnelitter, and the instructor was Mike Erdman. The video can be viewed on the
Learning Factory website
for future students and industry sponsors to see what our students can do.