Archives
You are currently viewing the archive for July 2013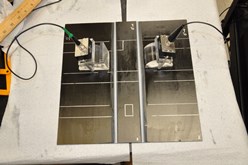 Ultrasonic waves can find bubbles and cracks in adhesive bonds holding airplane composite parts together, and now aerospace engineers can select the best frequencies to detect adhesive failures in hard-to-reach places more quickly, thanks to Penn State researchers.
Different ultrasonic modes work best for different materials and configurations using the right one will locate more flaws with higher precision, according to the researchers. The selection process could save time and effort for engineers who perform maintenance on complex structures made from composite materials -- like airplanes.
Adhesive bonds are better for attaching composite parts than nuts and bolts, which pierce and weaken structural integrity. But heavy operation can crack the glue, damaging the bond's effectiveness. Ultrasonic waves let engineers examine bonded regions without having to dismantle anything.
"This technique is very widely used in aerospace engineering because those structures require a very high reliability," said
Baiyang Ren
, postgraduate in engineering science and mechanics. "When something like an airplane or helicopter, bridge, ship has some component that fails suddenly, that could cause a severe accident."
Led by engineering science and mechanics professor Michael Lanagan, a team at Penn State's Materials Research Institute is developing a new use for glass that could make future hybrid-electric and plug-in electric vehicles more affordable and reliable.
The team has collaborated with Nippon Electric Glass and State-College based Strategic Polymer Sciences on developing thin and flexible glass customized to store energy at high temperatures and for high power applications, such as electric vehicle power electronics.
Postdoctoral researcher Mohan Manoharan and colleagues reported their findings in a recent paper, titled "Flexible Glass for High Temperature Energy Storage Capacitors," featured in the journal Energy Technology.
This news short has been adapted from a
Penn State News
article. Read the full story
here
.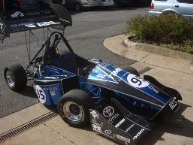 Penn State's
Applied Research Lab
(ARL) and the Department of Engineering Science and Mechanics'
Composite Manufacturing Technology Center
provided key support to the
Penn State Racing
team this past school year. Professors Tom Juska of ARL and Chuck Bakis of ESM guided the team as they prepared for the annual Formula Society of Automotive Engineers (FSAE) competition in May. The student-run group was tasked with designing and prototyping a formula-style race car for the competition.
Held at the Michigan International Speedway, the FSAE competition hosted 120 teams from across the globe that were judged on a variety of factors, including production cost, fuel economy, and a grueling endurance race. Penn State's team was one of 19 competitors with a winged aero-package. This design included composite carbon-fiber front and rear wings and side pods and the car ranked competitively in many categories.
During a recent visit to campus, Congressman Glenn Thompson toured the College of Engineering's
Learning Factory
, where the FSAE car is housed. ESM senior and FSAE team member Shawn Liang presented the car to Representative Thompson and described the students' hands-on learning experience readying the car for competition.
Two graduate students from the Department of Engineering Science and Mechanics have received 2013 Graduate Research Fellowships from the
National Science Foundation
(NSF). Congratulations to Beth Bimber and Amber Black on their accomplishments.
In total, eleven graduate students from the College of Engineering have received fellowships. To view the entire list
click here
.
The NSF's Graduate Research Fellowship Program recognizes and supports outstanding graduate students in NSF-supported science, technology, engineering and mathematics disciplines who are pursuing research-based masters and doctoral degrees at accredited U.S. institutions. The NSF received more than 13,000 applications for graduate fellowships and made 2,000 award offers.
Posted by:
rll19
on Jul 1, 2013
Dr. Patrick Lenahan and his students, Mark Anders, Mike Mutch, Thomas Pomorski and Liam Young, attended the 55th Electronic Materials Conference and the Device Research Conference at the University of Notre Dame in South Bend, Indiana on June 25-29, 2013. Mark Anders presented on "Electrically Detected Magnetic Resonance Study Comparing 4H SiC n- and p- MOSFETs." Thomas Pomorski presented on "ESR and SDT Studies of BEOL (Low-K) Dielectrics and Etch Stop Layers." Dr. Lenahan presented a paper on "Zero Field and Low Field Spin Dependent Transport in MOS Devices: A New Tool for the Study of Dielectric/Semiconductor Interface and Dielectric Defects," and chaired a session on "Oxide Thin-Film Integration—Alternative Dielectrics, Epitaxial Oxides, Multifunctional Oxides, Superlattices and Metal Gates."