Archives
You are currently viewing the archive for September 2013
Graduate student
Ahmad Ahsan Nawaz
showcased his research at the Biomedical Engineering Society Conference, held September 25-28 in Seattle, Washington.
Under the direction of adviser
Tony Huang
, Ahmad is working to develop a cheap, miniature flow cytometry device capable of performing HIV diagnostics and cancer cell analysis on human whole blood samples.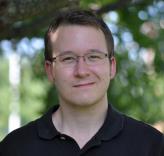 PhD candidate Stephen Swiontek has been awarded third place for Best Student Presentation at the Nanostructured Thin Films conference held August 28-29 in San Diego. Swiontek's presentation, "Surface-plasmonic-polaritonic sensor using a dielectric columnar thin film," explored the study of the angular location of a surface plasmon-polariton wave in relation to the deposition parameters and orientation of a columnar thin film, as well as the refractive index of an infiltrant fluid.
The
Nanostructured Thin Films conference
was a part of the 2013 Optics and Photonics technical program, hosted by the International Society for Optics and Photonics, August 25-29.
Speaker: Andy Dorsett
Institution: Wolfram Research
Date: Tuesday, September 24, 2013
Time: 3:30-4:30pm, including Q&A
Location: 160 Willard Bldg.

This talk illustrates capabilities in Mathematica 9 that are directly applicable for use in teaching and research on campus. Topics include:

* Easy-to-use features for new and current users
+ Free-form linguistic input
+ New Input Assistant and Next Suggestions Bar
+ Point-and-click palettes
* 2D and 3D visualization
* Dynamic interactivity & On-demand scientific data
* Example-driven course materials specifically for Science and Engineering courses
* Symbolic interface construction
* Digital Image Processing, Parallelization, and Control Systems functionality
* NEW Wolfram SystemModeler for component-based, multi-domain modeling and simulation

Current users will benefit from seeing the many improvements and new features of Mathematica 9 (http://www.wolfram.com/mathematica/new-in-9/), but prior knowledge of Mathematica is not required.

Wolfram SystemModeler information can be found here: (http://www.wolfram.com/system-modeler/)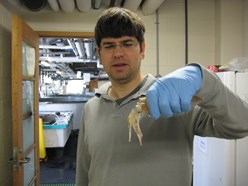 A wide range of biologically inspired materials may now be possible by combining protein studies, materials science and RNA sequencing, according to an international team of researchers.
"Biological methods of synthesizing materials are not new," said Melik C. Demirel, professor of engineering science and mechanics, Penn State. "What is new is the application of these principles to produce unique materials."
The researchers looked at proteins because they are the building blocks of biological materials and also often control sequencing, growth and self-assembly. RNA produced from the DNA in the cells is the template for biological proteins. Materials science practices allow researchers to characterize all aspects of how a material functions. Combining these three approaches allows rapid characterization of natural materials and the translation of their molecular designs into useable, unique materials.
"One problem with finding suitable biomimetic materials is that most of the genomes of model organisms have not yet been sequenced," said Demirel who is also a member of the Materials Research Institute and Huck Institutes of Life Sciences, Penn State. "Also, the proteins that characterize these materials are notoriously difficult to solubilize and characterize."
The team, lead by Ali Miserez, assistant professor, School of Materials Science and Engineering, Nanyang Technological University, Singapore, looked at mollusk-derived tissues that had a wide range of high-performance properties including self-healing elastomeric membranes and protein-based polymers. They combined a variety of approaches including protein sequencing, amino acid composition and a complete RNA reference database for mass spectrometry analysis. They present their results in a recent issue of Nature Biotechnology.
Cliff Lissenden
, professor of engineering science and mechanics, and his research team are featured in this month's edition of
International Innovation*
, a leading global research publication. The team is tackling the challenges of structural health monitoring in the United States and attempting to make advancements in infrastructure sustainability with use of ultrasonic guided waves.
Click here
for the full article and an interview with Dr. Lissenden.
*
International Innovation
, published by Research Media, is the leading global dissemination resource for the wider scientific, technology and research communities, dedicated to disseminating the latest science, research and technological innovations on a global level. More information and a complimentary subscription offer to the publication can be found at: www.international-innovation-northamerica.com.

This month, Osama Awadelkarim, professor of engineering science and mechanics, travels to Taibah University in Al Madinah, Saudi Arabia, to discuss ongoing research collaborations.
Following his visit to Taibah University, Dr. Awadelkarim will act as a PhD external examiner at Sultan Qaboos University in Muscat, Oman.