Archives
You are currently viewing the archive for October 2013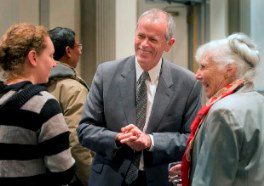 Penn State's Executive Vice President and Provost Nicholas P. Jones hosted a 'Meet the Provost' open house on Oct. 30 at the Nittany Lion Inn. Emily Gallagher and Carol Winkler, both staff members in the Department of Engineering Science and Mechanics, chatted with the University Provost during the event that was attended by faculty, staff, students and community members.
Jones was formerly the Benjamin T. Rome Dean of the Whiting School of Engineering at Johns Hopkins University before coming to Penn State in July.
Three graduate research assistants in the
Multifunctional and Adaptive Materials Laboratory
presented their research at the Materials Science and Technology (MS&T) Conference, Oct 27-31 in Montreal, Canada.
NSF graduate fellow Beth Bimber gave a presentation titled "Development of Novel Laser-based Digital Direct Manufactured Shape Memory Alloys." Huilong Hou presented the "Extrinsic Effects on the Martensitic Transformation in Shape Memory Alloys with Nanometer Scale Dimensions." Asheesh Lanba's presentation was titled "Martensitic Transformation Morphology and Tailoring Wide Hysteresis Shape Memory Alloys."
Bimber, Huilong, and Lanba work in the lab under the direction of Reginald Hamilton, assistant professor of engineering science and mechanics.
MS&T offers a technical program addressing structure, properties, processing and performance across the materials community.

Ivi Smid
, associate professor of engineering science and mechanics, will give four presentations at the Materials Science and Technology (MS&T) Conference, October 27-31 in Montreal, Canada.
He also has organized two symposia for the conference - "Particulate Composites" and "Measurement and Modeling of High Strain-Rate Deformation" - and a meeting for The Minerals, Metals and Materials Society's Refractory Metals Committee, on which Dr. Smid serves as vice-chair.
MS&T offers a technical program addressing structure, properties, processing and performance across the materials community.
The cumulative installed photovoltaic electricity generation (PVEG) capacity exceeds 100 GW at present. It is predicted to increase to 200 GW within the next two years. The vast majority of installed PVEG systems employ traditional photovoltaic panels made of bulk silicon. PVEG systems employing solar concentrators have not made a big impact the worldwide PV scenario. Thin-film technologies have also not made a big impact yet.
The ongoing challenge in the PVEG industry is to decrease the overall cost of a PVEG system per peak watt generated. Several new PVEG mechanisms have been put forth. These include multiple exciton generation, carrier multiplication, and hot-carrier extraction, among others. In a survey ("
Making Solar Cells a Reality in Every Home: Opportunities and Challenges for Photovoltaic Device Design
") conducted by Prof. Rajendra Singh and his graduate student Githin F. Alapatt at Clemson University along with Prof. Akhlesh Lakhtakia of Penn State University, none of these mechanisms were found to be commercially viable. A few of these have not been rigorously tested.
For generating electricity very close to the location of its use, the authors concluded that only two kinds of PVEG technologies are commercially viable for terrestrial applications. The first kind employ bulk silicon. The second kind are based on thin films exemplified by amorphous silicon, cadmium telluride, and a compound semiconductor material comprising copper, indium, gallium, and selenium. Management of the flux of solar photons through the solar cells is expected to boost efficiency, but the additional manufacturing costs to be incurred thereby remain unknown.
To improve the efficiencies of these commercially viable technologies, a multi-junction multi-terminal architecture for PVEG modules appears promising. This architecture will use the currently popular bulk-silicon solar cells combined with thin-film solar cells of a semiconductor material such as copper oxide that is abundant on this planet.
"Local dc-power generation by solar PV systems coupled with the delivery and the use of dc power will making energy available for rich and poor alike," according to Singh, Alapatt, and Lakhtakia.
Source:
Nanowerk News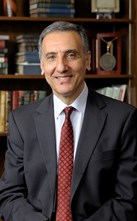 Penn State announced today that Amr Salah Elnashai will serve as the new dean in the College of Engineering.
Elnashai, currently the head of the Department of Civil and Environmental Engineering at the University of Illinois at Urbana-Champaign, succeeds David N. Wormley, who announced his retirement earlier this year after more than two decades as dean. Elnashai will begin Jan. 13 at Penn State. The University Board of Trustees will vote on his appointment at the November meeting.
"Penn State engineering is a premier college of national and international acclaim, and it is a huge honor for me to work with the faculty and staff to further its march of excellence," Elnashai said. "Leaving the University of Illinois is not easy; joining the Penn State family is an event that my family and I very much look forward to."
At Illinois, Elnashai is also the Bill and Elaine Hall Endowed Professor and director of hybrid simulation at the National Science Foundation's Network for Earthquake Engineering Simulations (NEES) laboratory, where research is conducted on infrastructure design and construction to minimize damage from earthquakes or tsunamis.

Osama Awadelkarim, professor of engineering science and mechanics and associate director of the Center for Nanotechnology Education and Utilization at Penn State, presented the key note speech at the IV Congress on Micro and Nanotechnology, held Oct. 10-11 in Bogota, Colombia.
Casimer DeCusatis ('86 E SC) will discuss "From Wall Street to Watson: The Next Generation of Data Networks" as he delivers the Schreyer Honors College's 18th annual Mark Luchinsky Memorial Lecture at 8 p.m. on Wednesday, Oct. 23, in the HUB Auditorium on Penn State's University Park campus.
The evening's format will be a discussion moderated by Christian M. M. Brady, dean of the Schreyer Honors College, with questions fielded from the audience. The lecture is free and open to the public.
DeCusatis currently is the chief technology officer for strategic alliances with IBM Systems Networking. His work includes designing data recovery systems used by Fortune 1000 Companies worldwide in the event of emergencies and disasters. Those systems include ones deployed successfully in the aftermath of the September 11th attacks, Hurricane Katrina, tsunamis in southeast Asia, the 2011 nuclear meltdown in Japan. He also was involved in creating the network powering Watson, the IBM supercomputer that in 2011 won the "Jeopardy!" game show against two of the television show's champions.
He has earned the designation as an IBM Master Inventor and holds more than 120 patents, a number of which are ranked in the top 5 percent of contributions to IBM. He has been recognized professionally with the IEEE Kiyo Tomiyasu Award, the Sigma Xi Walston Chubb Award for Innovation, the EDN Innovator of the Year Award, and the Mensa Research Foundation Copper Black Award for Creative Achievement.
DeCusatis is the founder and director of Hudson Valley FIRST Lego League, which helps more than 1,000 students each year pursue their interests in science and technology. In 2012, he was named the Schreyer Honors College's Outstanding Scholar Alumnus for his professional accomplishments and community engagement.
DeCusatis graduated from Penn State with honors with a degree in engineering science. He earned his master of science and doctoral degrees from Rensselaer Polytechnic Institute.
For more information about this year's Luchinsky lecture, visit shc.psu.edu/events/luchinsky.
Source:
Penn State News