Archives
You are currently viewing the archive for November 2013

Christine Masters, associate professor of engineering science and mechanics, has been named assistant dean for academic support and global programs in the College of Engineering at Penn State. Renata Engel, associate dean for academic programs, made the announcement today (Nov. 19).
Masters takes over for Jean Landa Pytel, who will retire at the end of the calendar year.
As assistant dean, Masters will provide leadership to the college's programs that support students' undergraduate experience, including advising, and advance the college's commitment to global engagement.
This holiday season, staff members in ESM are collecting donations for the
Toys for Tots
campaign and the Centre County food banks.
Toys should be new and unwrapped. Food bank donations must be
non-perishable items
or grocery store gift cards.
Collection boxes are located in the lunchroom in 212 Earth-Engineering Sciences Building and room 148 of the Research West Building. The final day to drop off items is Friday, Dec. 13.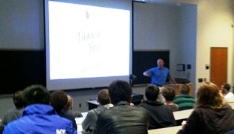 Alumnus John Starr ('90 E SC) recently visited with students in the Senior Design and Senior Research and Design Project II classes. He shared career advice and his "secrets to success," including how to build global teams.
Shortly after graduating from Penn State, John was offered a position with Westinghouse Electric in the Engineering Manufacturing Professional Development Program. He later worked for Respironics, Inc., where he earned six U.S. patents and eventually became director of an engineering and business development group. John earned an MBA from Carnegie Mellon University in 1996.
In 1999, John began working for a dot-com company now called Ariba. He is currently vice president of Global Sourcing Operations for the company, which is an industry-recognized leader in spend management.
John and his wife Margie and father Richard manage a herd of certified Hereford-Angus Beef Cattle on their 275-acre family farm, "Starr Valley Farm."