Archives
You are currently viewing the archive for April 2014

Professor Melik Demirel will give a talk titled "Nanoscale Biomimetrics - Merging Materials Science and Genomics" at the Institute of Materials Science and Engineering at Washington University in St. Louis on April 25.
Demirel will discuss how recombinant expression or direct extraction of elastomers from biological organisms can provide a new generation of recyclable-engineered materials.
Demirel says, "Understanding the structures and functional characteristics of these novel elastomeric materials will expedite the design, fabrication and synthesis of eco-friendly, recyclable, advanced materials with novel wetting, friction and transport properties."
For more information,
click here
.
Michael Lanagan, professor of engineering science and mechanics and associate director of the Center for Dielectric Studies in the Materials Research Institute, has been selected to participate in the U.S. Air Force Summer Faculty Fellowship Program (AF SFFP).
The program offers hands-on exposure to Air Force research challenges through eight- to 12-week residencies at participating Air Force research facilities for full-time science, mathematics and engineering faculty at U.S. colleges and universities.
Lanagan will be working on a proposal titled, "Microwave Characterization of High Energy and Nonlinear Dielectrics," at the Kirtland Air Force Base in Albuquerque, New Mexico, with Susan Heidger, a senior research physicist at the base.
High energy and tunable dielectrics are critical for Department of Defense pulse power and power distribution systems so that these systems can support high voltages and power. Lanagan said, "The goal of this SFFP effort is to develop a fundamental understanding of dielectric performance under high-power microwave conditions."
High power material properties are of interest for a wide range of applications, such as power modules for aircraft and hybrid electric vehicles and wireless communication devices, and there are fundamental materials phenomena at high temperature and high electric field that have yet to be explored.
Lanagan and Heidger will collaborate with the High Performance Compact Pulsed Power Components Group at Kirtland to establish the scientific and engineering materials foundations to create pulse power components with high energy densities, high tenability, fast response times, and reliable operation under extreme environments.
The AF SFFP also allows faculty members to select one graduate student to assist with their research. Matthew Pyrz, a first year engineering science and mechanics graduate student, will be joining the project and will focus on new high-energy materials during the summer at Kirtland.
Lanagan is looking forward to building a partnership between the Kirtland Air Force Base and Penn State. He said, "One long-term programmatic goal from this SFFP-sponsored fellowship would be to establish a collaboration and research program with Kirtland so that graduate students would regularly spend time at the Air Force Research Laboratory facility."


The College of Engineering celebrated
15 faculty and staff members
who have given 25 years of service to Penn State in a ceremony on April 16 in Kunkle Lounge. Charles Bakis and Joseph Cusumano of the ESM department were recognized.
Bakis is Distinguished Professor of Engineering Science and Mechanics and director of Penn State's Composites Manufacturing Technology Center. He is a Fellow of ASME, Fellow of the International Institute for Fiber Reinforced Polymers in Construction, and Fellow and current President of the American Society for Composites.
Cusumano is Professor of Engineering Science and Mechanics and his research and teaching interests are in the field of dynamics. He recently received a Clinical Translational Science Innovation award to collaborate with physicians at Hershey Medical Center. By instrumenting subjects, his research is analyzing human gait as an early predictor of Parkinson's Disease.
As part of their 25-year award, each honoree is given a commemorative plaque and pin, plus their choice of a Penn State captain's chair, rocking chair, or Penn State Elms mantel clock.
Dr. Abhendra K. Singh, postdoctoral research scholar, has received the Graduate School All University Doctoral Prize from Syracuse University for his "exemplar of the excellence of the College of Engineering and Computer Science." Dr. Singh's thesis research was on the damage characterization and analytical modeling of quasi-statically indented graphite/epoxy-honeycomb core composite sandwich structures. Dr. Singh's work with Dr. Charles Bakis is focused on the development of multifunctional sandwich structures that store electrochemical energy while supporting mechanical loads as part of an automobile structure.

Donald Heaney
, deputy director of the Center for Innovative Sintered Products (
CISP
) at Penn State, is in the running for a Governor's Entrepreneur Impact Award. Heaney is the president and CEO of
Advanced Powder Products
, located in Philipsburg, Pa.
Seven Centre County companies
are finalists for the Awards, which recognize companies and individuals investing and creating jobs in Pennsylvania. Winners will be announced on May 30.
Graduate student Abdon Pena Francesch will attend the 2014
Materials Research Society (MRS) Spring Meeting & Exhibit
to present in Symposium U: Soft Nanomaterials.
Abdon's presentation,
Adhesion Mechanism of a Protein Melt
, explores the use of natural elastomers to produce eco-friendly materials. In particular, a recently discovered bioelastomer (the sucker ring teeth extracted from a squid species) presents thermomechanical properties similar to thermoplastic polymers, allowing the material to be molded into any 3D geometry. This recyclable and reusable bioelastomer potentially is an inexpensive, environmentally-safe alternative to synthetic adhesives, and, when used as an underwater adhesive, is at least two orders of magnitude stronger than synthetic adhesives and ten times stronger than biological adhesives.
The MRS Spring Meeting & Exhibit will be held April 21-25 in San Francisco. There will be more than 50 symposia and 5,000 attendees from across the globe who discover and present the latest developments in materials research.
Alumnus John Bender ('76 MS EMech) and ESM budget assistant Carrie Friday were recognized at the Penn State Engineering Alumni Society (PSEAS) Faculty/Staff Awards ceremony on April 1.
John Bender is the recipient of the 2014 Distinguished Service Award, which recognizes and rewards a current or former faculty member, an alumnus, or friend who has donated time, expertise, and energies in the form of outstanding and special service to a department, unit, or to the College. John has been a member of ESM's Industrial and Professional Advisory Council since 2009 and was a key adviser during the development of a joint MD/PhD degree at University Park. Among other accolades, he was named an Outstanding Engineering Alumnus in 2010.
John is the founder and former owner of PhysIOM, now ProNerve, a company that delivers intraoperative neurophysiologic monitoring. He earned his BS from Lehigh University and a DO from the Philadelphia College of Osteopathic Medicine.
Carrie Friday is the recipient of the 2014 Outstanding Staff Award, which recognizes and rewards outstanding service by staff employees in the College of Engineering. She joined ESM in 2008 and, since then, has streamlined budget processes at the departmental and college levels and developed a monthly faculty financial report that more closely monitors faculty and departmental spending. Known for her exceptional quality of work, Carrie oversees an annual research budget of $10 to $15 million.
Carrie completed a BS degree in business with a financial services option at Penn State in December of 2013. In her senior year, she applied her coursework to financial processes and, in particular, to a project in the College's financial office.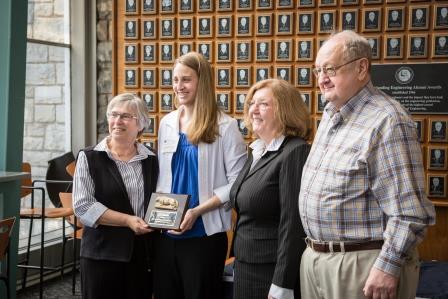 John's daughter, Sierra, a senior in Industrial Engineering at Penn State, received the award on his behalf. From left to right: Assistant Dean Emerita Jean Pytel, Sierra Bender, ESM department head Judith Todd, Professor Emeritus of Engineering Mechanics Andrew Pytel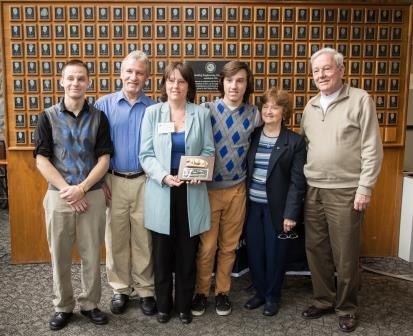 Carrie and her husband, Jim, their sons, Tyler and Zach, and Carrie's parents