Archives
You are currently viewing the archive for May 2014
The U.S. Department of Energy's Argonne National Laboratory is forming a new research center to enhance resiliency for major disruptive events, such as natural disasters and climate change. The Center for Integrated Resiliency Analyses (CIRA) will be led by ESM alumnus and Argonne researcher John Hummel ('73 E SC, '75 MS EMS). Hummel is a modeling and simulation expert focusing on national security analyses, such as climate and environmental impacts on national security.
Read more about how the newly created center will help officials begin to plan for the effects of climate change on their regions
here
.
Research teams at the Penn State College of Medicine and University Park campus have received grants from Penn State's
Clinical and Translational Science Institute's
(CTSI) recent Novel Methodologies in Health Research Program.
Nine research projects
received more than $400,000 from CTSI.
ESM professor Francesco Costanzo and his research team are developing a model for clot removal in the treatment of acute stroke. Clot removal following acute stroke is successful only in approximately 80 percent of cases with a good clinical outcome in only 50 percent of patients. Barriers to fast, effective cerebral thrombectomy arise due to the mechanical properties of clots and their adhesion to arterial walls. A promising new approach to clot removal from a cerebral artery has been proposed by the group working with
Scott Simon
, a neurosurgeon at Penn State Hershey Medical Center, in which the clot is attacked via an alternating pressure mediated through blood or saline until the thrombus, a fibrin polymer, fatigues, fractures, and dissipates.
Taking this new technique to clinical practice is challenging and cannot be done by simple "trial and error." It is in these difficult cases that computer modeling can offer a way forward that cannot otherwise be found by intuition or trial-and-error. Simon (Co-PI) has joined forces with Costanzo (PI) and ESM professor Sulin Zhang (Co-PI), for the development of a computational model of the clot-artery system under cyclic loading as applied by a catheter. This award is a fantastic opportunity to bring together research in engineering and medicine to concretely advance technology in the operating room.
Metamaterials research having potential applications in high-speed data transmission, medical imaging and other kinds of imaging and remote sensing is the focus of a U.S. Department of Defense project funded for five years at $7.5 million.
Penn State is part of this six-member Multi-University Research Initiative by the Air Force Office of Scientific Research. The project is led by Mark Cappelli, professor of mechanical engineering, Stanford University. Also collaborating with Stanford are the University of Texas at Austin, Tufts University, UCLA and the University of Washington.
Penn State researchers will focus on the fundamental science necessary to develop plasma photonic crystals and plasma-embedded metamaterials that operate in the terahertz range. Terahertz is the region of the electromagnetic spectrum that lies between far infrared and microwave, and is a nonionizing frequency invisible to the human eye. This regime is already being used in airport surveillance and astronomy.
The researchers will generate the plasmas inside holes in the metamaterial arrays using radio frequency excitation with the entire device encapsulated in an inert gas. Using micro-lens arrays, focused lasers will generate very dense, highly ionized plasma arrays. Unlike the metal structures of typical metamaterials, researchers can control a plasma's dielectric properties by varying the plasma density. Plasmas afford the possibility of controlling metamaterials at high bandwidth. This will enable such applications as antennas with beam steering, filter devices, multiplexers, phase shifters and electro-optical modulators.
Researchers at Penn State will be the primary team charged to develop a new class of low-loss dielectric resonators and multilayer low temperature co-fired ceramics to replace the usual metallic split-ring resonators found in traditional metamaterial structures. Metamaterials are artificial structures with sub-wavelength features that can interact with electromagnetic waves in a manner unlike that of natural materials. Long-term goals of metamaterials research include invisibility cloaking devices and perfect lenses to capture short-range light waves for fine detail light microscopy.
The principal investigators at Penn State are Clive Randall, professor of materials science and engineering, and Michael Lanagan, professor of engineering science and mechanics. The Penn State team members are pioneers in the development of dielectric materials and leaders in the long-running Center for Dielectric Studies, an industry supported research center that recently was renewed with technical new opportunities with North Carolina State University as the NSF I/UCRC Center for Dielectrics and Piezoelectrics.
Source:
Penn State News
ESM faculty, staff, families and friends celebrated the graduation of 27 seniors on May 9 at the Ramada Inn in State College.
Department head Judith Todd recognized the seniors for their many accomplishments and highlighted the service-oriented nature of the graduating class, who were very involved in the Penn State community, as well as in service projects across the state, nation, and globe. At Penn State, engineering science students participated in the Penn State Dance Marathon (THON), Penn State Red Cross Club, Relay for Life, Students Taking Action to Encourage Recycling, Fresh Start Day of Service, Engineering Week, and the Engineering Ambassador Program, among other programs.
Six awards, presented annually at graduation, were given.
Student Marshall Award:
Bradford Lapsansky
Frank H. Fenlon Award: Joshua Park
Kearns/McNitt Award: Sarah Masters
Dr. Paul A. Lester Memorial Award in Microelectronics: Suxing Pan
Joseph C. Conway, Jr. Memorial Award: Justin Kauffman, Jeong Nyeon Kim
P. B. Breneman Best Portfolio Award: First Place - Joshua Park, Second Place - Malick Fofana, Third Place - Bradford Lapsansky
P. B. Breneman Best Design in Research Award: First Place - Joshua Park, Second Place - Jonathan Zuk, Third Place - Colin McKay, Erik Shaw, and James Ashton
A photo gallery from the event is available
here
.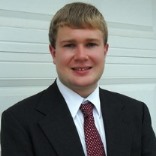 Bradford J. Lapsansky will be the student marshal for the engineering science baccalaureate degree program at the Penn State College of Engineering spring commencement ceremony on May 9. Lapsansky will receive a bachelor of science degree in engineering science with a minor in engineering mechanics.
He has chosen Francesco Costanzo, professor of engineering science and mechanics, to be his faculty escort.
College of Engineering student marshals are selected for their outstanding academic achievement and contributions to engineering student life.
Lapsansky is the son of Jane and Joseph Lapsansky of Plains, Pa. He is a 2010 graduate of James M. Coughlin High School in Wilkes-Barre.
A Schreyer Honors College Scholar, Lapsanksy's academic honors include the Evan Pugh Scholar Award (senior).
He was the recipient of the S.M.A.R.T. Scholarship, the Tau Beta Pi Record Scholarship, the Robert and Myrtle Vierck Scholarship, the Sam Y. and Myrna R. Zamrik Scholarship and the Schreyer Honors College Academic Excellence Scholarship.
He is a member of the Tau Beta Pi Engineering Honor Society and the Penn State Wilkes-Barre Honor Society.
During his undergraduate career, Lapsansky completed internships with PPL Susquehanna LLC, where he assisted with nuclear reactor in-vessel inspections, and Pride Mobility Products, where he worked on designs that improved the manufacturing speed and quality of power scooters.
He also completed an undergraduate research project titled "A Mathematical Model for Brain Tissue."
Lapsansky's extracurricular activities at Penn State include the Society of Engineering Science (treasurer, 2013-14) and the Penn State WIlkes-Barre Blue and White Society (president, fall 2011; vice president, spring 2011).
Following graduation, Lapsansky will join the U.S. Army Communications-Electronics Research, Development and Engineering Center as a general engineer.
ESM graduate student Yanhui Zhao received the Alumni Association Dissertation Award. It provides funding and recognition to outstanding full-time doctoral students who have passed their comprehensive exams and have received approval of the dissertation topic. Each student received $5,000 and was recognized at the Graduate School Alumni Society's recognition program on April 5.
Zhao was one of
five graduate students
honored this spring with an award from the Graduate School.