Archives
You are currently viewing the archive for June 2014
Professors Francesco Costanzo and Tony Huang of the ESM department have been awarded a grant from the National Science Foundation to explore the mechanical response of cells as biomarkers.

Mechanical biomarkers have proved to be effective markers for diseases ranging from malaria to various forms of cancer. The proposed research will lead to more effective, cheaper, and faster cell-based on-chip diagnostic and therapeutic devices. As such, this research can have a major impact on public health worldwide.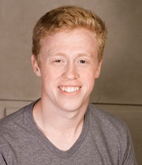 ESM undergraduate student Clayton Dickerson has received the American Society for Nondestructive Testing (ASNT) Engineering Undergraduate Award based on his paper, "Nondestructive Testing of Composite Materials."
In the paper, Dickerson outlined the plans for his senior thesis. He will be working under ESM professor Cliff Lissenden and testing the effectiveness of magnetostrictive coils on composite materials.
Dickerson and other award recipients will be announced in ASNT's journal,
Materials Evaluation
. Dickerson also will attend the ASNT Annual Awards Banquet in Charleston, SC in October.

ESM professor Melik Demirel gave a talk at the Ninth International Meeting on Electrowetting and Related Micro/Electrofluidic Science and Technology, June 23-25 in Cincinnati, OH.
The International Meeting on Electrowetting is an informal forum where eminent scientists and engineers come to discuss recent advances in the science and applications of electrowetting and, in this ninth meeting, related emergent topics including superspreading, electrowetting DNA sequencing, magnetofluidics, liquid metals, and more.
Demirel participated in the Emerging Topics section, presenting "Fabrication of Directional Silicon Surfaces for Electrowetting."

ESM professor Melik Demirel gave a talk at the Ninth International Symposium on Contact Angle, Wettability and Adhesion, June 16-18, at Lehigh University.
This symposium is concerned with both the fundamental and applied aspects of contact angle measurements. Issues such as the applicability and validity of various measurement techniques and the proper theoretical framework for the analysis of contact angle data are of prime concern. In addition, a host of applications of the contact angle technique are explored.