Archives
You are currently viewing the archive for August 2014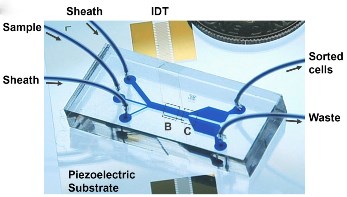 By A'ndrea Elyse Messer
August 25, 2014
UNIVERSITY PARK, Pa. -- Precise, gentle and efficient cell separation from a device the size of a cell phone may be possible thanks to tilt-angle standing surface acoustic waves, according to a team of engineers.
"For biological testing we often need to do cell separation before analysis," said Tony Jun Huang, professor of engineering science and mechanics. "But if the separation process affects the integrity of the cells, damages them in any way, the diagnosis often won't work well."
Tilted-angle standing surface acoustic waves can separate cells using very small amounts of energy. Unlike conventional separation methods that centrifuge for 10 minutes at 3000 revolutions per minute, the surface acoustic waves can separate cells in a much gentler way. The power intensity and frequency used in this study are similar to that used in ultrasonic imaging, which has proven to be extremely safe, even for fetuses. Also, each cell experiences the acoustic wave for only a fraction of a second, rather than 10 minutes.
"The tilted-angle standing surface acoustic waves method has the least disturbance or disruption to the living cells being separated compared to other available methods so far," said Ming Dao, principal research scientist, materials science and engineering, Massachusetts Institute of Technology. "It adds to the portfolio of latest technology developments for separating such things as rare circulating tumor cells in the blood."
Previous work by Huang showed that acoustic tweezers work by setting up a standing surface acoustic wave. If two sound sources are placed opposite each other and each emits the same wavelength of sound, there will be a location where the opposing sounds cancel each other. Because sound waves have pressure, they can push very small objects, so a cell or nanoparticle will move with the sound wave until it reaches the location where there is no longer movement.
If the sound sources are at right angles to each other, an evenly spaced set of rows and columns form in a checkerboard pattern. In this case, the team from Penn State, MIT and Carnegie Mellon University used simulation programs to determine the angle the sound sources should be tilted at to produce the best separation. They report their results today (Aug. 25) online in the Proceedings of the National Academies of Science.
By tilting the sound source so that it is not perpendicular, the researchers created better separation distance and could more efficiently sort cells.
The acoustic tweezers are made by manufacturing an interdigital transducer, which creates the sound, onto the piezoelectric chip surface. Standard photolithography creates microchannels in which the liquid containing the cells flow.
The researchers created the separator, which can run continuously. The device separated 9.9-micrometer particles from 7.3-micrometer particles so efficiently that 97 percent of the 7.3-micrometer particles went to the correct location. The device can also separate cancer cells from white blood cells with high efficiency and purity. It is simple and inexpensive to fabricate and does not need strict alignment to achieve this separation.
"The method we describe in this paper is a step forward in the detection and isolation of circulating tumor cells in the body," said Subra Suresh, one of the study's authors and president of Carnegie Mellon University. "It has the potential to offer a safe and effective new tool for cancer researchers, clinicians and patients."
The researchers see devices like this one separating cancer cells from other cells, bacteria from blood, white blood cells from red blood cells and malaria parasites from blood, to name a few uses.
Other Penn State researchers on this project were Xiaoyun Ding, graduate student and co-lead author; Sz-Chin Steven Lin, graduate student; Peng li, post doctoral fellow and Yuchao Chen, graduate student, engineering science and mechanics; and Sixing Li, graduate student, cell and developmental biology.
Other researchers were Zhangli Peng, former postdoctoral fellow, materials science and engineering, and Michela Geri, graduate student, mechanical engineering, both at MIT.
The National Institutes of Health and the National Science Foundation funded this work.

Charles Bakis, distinguished professor of engineering science and mechanics, received the 2014 President's Award from the International Institute for Fiber Reinforced Polymer (FRP) in Construction (IIFC).
The award is given every two years in recognition of distinguished service to the IIFC for advancing the understanding and the application of fiber-reinforced polymers in the civil infrastructure, in service of the engineering profession and society.
Bakis is an IIFC fellow and has served as vice president for membership since 2010.
He received his award at the seventh International Conference on Fiber Reinforced Polymer Composites in Civil Engineering, held in Vancouver, British Columbia, Canada, on Aug. 22.
A Penn State faculty member since 1988, Bakis's main research interests are the manufacturing, performance, evaluation and mechanics of fiber reinforced composite materials.
The IIFC is the only international professional organization dedicated to the use of fiber-reinforced composite materials in civil infrastructure.
An interdisciplinary team that includes five Penn State researchers has received a three-year $3 million Integrated Research Project (IRP) award from the Department of Energy (DOE).

Their project is titled "Multi-Sensor Inspection and Robotic Systems for Dry Storage Casks."

Cliff Lissenden, professor of engineering science and mechanics, is principal investigator (PI) and Arthur Motta, professor and chair of nuclear engineering, is co-PI.

Motta said their research aims to develop methods for assessing the potential for environmental degradation of containers of used nuclear fuel kept in dry storage. "The monitoring of possible degradation of the metal canister and the concrete overpack is necessary to ensure the continued health of these systems over the longer periods of time that may be needed, given the unavailability of a permanent repository. However, many of the locations inside the storage cask that are of greatest interest for monitoring are difficult to access, making detailed inspection a challenge."

The team will develop advanced sensors and robotic delivery devices that will enable the inspection of the sensitive regions of the canister for the presence of deposited salts, dust and reaction products by surface sampling, and of cracks and corrosion by non-destructive inspection using advanced ultrasonics.

Environmental conditions such as radiation field and temperature will also be assessed to help benchmark models.

Motta explained that the devices will first be designed in a laboratory and then field tested in collaboration with the team's industry partners from Oak Ridge National Laboratory, Pacific Northwest National Laboratory, the Electric Power Research Institute and Holtec International.

The team also includes Penn State's Igor Jovanovic, the Bashore Faculty Development Associate Professor of Nuclear Engineering; Sean Brennan, associate professor of mechanical engineering; and Karl Reichard, research associate at the Applied Research Laboratory; as well as John Popovics, associate professor of civil and environmental engineering at the University of Illinois; Travis Knight, associate professor and director of the nuclear engineering program at the University of South Carolina; and Huidong Gao of Innerspec.

Motta said, "In all, the program involves seven professors and eight graduate students at three different universities, and it will provide opportunities for undergraduate research."

Penn State's project is part of a larger commitment by the DOE to award $20 million for five IRPs that will deliver solutions to high priority nuclear energy research challenges.

The IRP awards are part of the DOE's Nuclear Energy University Programs, which engages U.S. colleges and universities to conduct research and development, enhance infrastructure and support student education thereby helping to sustain a world-class nuclear energy and workforce capability.
A distinguished panel moderated by ESM professor Akhlesh Lakhtakia and ESM department head Judith Todd led discussion on what is ahead in the trajectory toward a knowledge-based global economy.
Panelists were Francois Flory, Ecole Centrale Marseille; Robert Breault, Breault Research Organization; Zakya Kafafi, Lehigh University and National Science Foundation; Jason McClure, Princeton Instruments; and Thomas Furness, Visualant.
The panel was held during the SPIE Optics + Photonics 2014 conference in San Diego, August 17-21. This conference is the largest international, multidisciplinary optical sciences and technology meeting in North America, where attendees hear the latest research in optical engineering and applications, solar energy, nanotechnology, and organic photonics.
For more news from SPIE Optics + Photonics 2013
click here
.