Archives
You are currently viewing the archive for September 2014

UNIVERSITY PARK, Pa. -- Tony Huang, professor of engineering science and mechanics, has been named the recipient of the Institute of Electrical and Electronics Engineers (IEEE) 2014 Sensors Council Technical Achievement Award.
The award honors a person with outstanding technical contributions within the scope of the IEEE Sensors Council, as documented by publications and patents.
Huang was cited "for outstanding contributions in the areas of microfluidics, optofluidics, ultrasonic tweezers and acoustic focusing."
He will receive his award, which consists of $2,000 and a plaque, on Nov. 3 at IEEE SENSORS 2014 in Valencia, Spain.
Huang joined the Penn State faculty in 2005. His work has previously been recognized with awards and honors such as a 2010 National Institutes of Health Director's New Innovator Award, a 2011 Journal of Laboratory Automation Top Ten Breakthroughs of the Year Award, a 2012 Outstanding Young Manufacturing Engineer Award from the Society of Manufacturing Engineers, a 2013 Faculty Scholar Medal from Penn State and a 2013 American Asthma Foundation Scholar Award.
Huang received his bachelor's and master's degrees in mechanical engineering from Xi'an Jiao Tong University, China, and his doctorate degree in mechanical engineering from the University of California, Los Angeles.
Established in 1884, the IEEE is the world's largest professional association dedicated to advancing technological innovation and excellence for the benefit of humanity. The Sensors Council consists of 23 member societies that work together in a multidisciplinary technical area of mutual interest, primarily through conferences and publications.
Source:
Penn State News
Akhlesh Lakhtakia, Charles Godfrey Binder professor, was named a Distinguished Alumnus of the Indian Institute of Technology (BHU), Varanasi, India, at a ceremony held in Lisle, IL, on September 13, 2014. He was cited for his wide-ranging research contributions.
The award was bestowed by Dr. Rajeev Sangal, Director of IIT (BHU). Mr. Manoj Sinha, Minister of State for Railways in the Government of India was also present.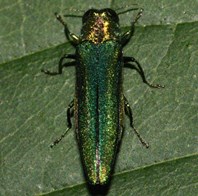 UNIVERSITY PARK, Pa. -- An international team of researchers has designed decoys that mimic female emerald ash borer beetles and successfully entice male emerald ash borers to land on them in an attempt to mate, only to be electrocuted and killed by high-voltage current.
"Our new decoy and electrocution process may be useful in managing what the U.S. Department of Agriculture Forest Service claims to be the most destructive forest pest ever seen in North America," said
Michael Domingue
, postdoctoral fellow in
entomology
, Penn State.
According to the Forest Service, the emerald ash borer was introduced to the United States from China in 2002. Since then, it has spread throughout 24 states and two Canadian provinces, and killed tens of millions of otherwise healthy native ash trees.
"Early detection of the pest in traps such as ours can help in coordinating management strategies to slow its spread and minimize its impact," said Domingue.
The researchers -- including entomologists and engineers at Penn State, the Hungarian Academy of Sciences, the Forest Research Institute in Matrafured, Hungary, and the USDA -- created the decoys using a bioreplication process with nanoscale fidelity.
"Specifically, we coated a dead female beetle with a vapor of nickel, and used the 'nickelized' shell to fabricate two matching molds in the shape of a resting beetle," said
Akhlesh Lakhtakia
, Charles Godfrey Binder professor of
engineering science and mechanics
, Penn State. "Pressing a structurally colored plastic sheet between the two molds while simultaneously applying heat, we cast numerous replicas or decoys. The finished bioreplicated decoys retained the surface texture of the beetle at the nanoscale. Additionally, we painted some decoys a metallic green."
The Penn State engineers also created decoys using a 3D-printing process. In this method, they molded plastic into the size and shape of emerald ash borers, but did not attempt to duplicate the surface texture of the insects.
Next, the entomology researchers pinned the bioreplicated and 3D-printed decoys, as well as dead female emerald ash borers, onto leaves in forests in Hungary to see which of them best attracted wild males. In the same forests, the team also placed traps configured with decoys bearing a 4,000-volt charge to electrocute and trap males as they landed on the decoy females.
The results will appear today (Sept. 15) in the Proceedings of the National Academy of Sciences.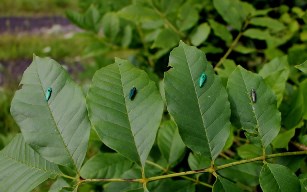 The scientists found that both types of synthetic decoys, as well as the dead pinned females, elicited initial flights by males toward them. Males nearly always chose to land on the dead females and the more realistic bioreplicated decoys. However, while the males initially flew toward the simpler 3D-printed decoys, they did not land on them. Males would normally quickly leave the bioreplicated decoys after they touched them. Yet, that brief contact was enough for them to become instantly stunned and captured by the trap if the voltage was applied to the decoys.
According to Domingue, the light-scattering properties of the beetle's shell -- which the team experimentally demonstrated using a white laser -- made the nano-bioreplicated decoys more lifelike and, therefore, more attractive to males than the non-textured 3D-printed decoy.
"We learned that not only do color and shape of a resting female beetle play a role in attracting males to a mate, but also the fine-scale texture of the visible surface is important," said Domingue. "Small bumps and spines on the outer surface of their wings and heads that aren't visible to the human eye scatter light in a distinctive pattern. Beetles appear to be able to recognize this feature of the decoys and are strongly attracted to it. This insight may at least partially explain how mate-seeking males can easily detect and approach green-colored females cryptically resting on green leaves. Ultimately, we have gained new insights into how to manipulate the behavior of emerald ash borers and similar pests in ways that can help to trap them and monitor where they might be doing damage."
According to
Thomas C. Baker
, distinguished professor of entomology, Penn State, the findings were possible only because of the multidisciplinary makeup of the team.
"I was able to find colleagues whose intellects, expertise, and enthusiasm matched the tasks at hand, thus enabling us to figure out how these destructive beetles find each other to mate and how we can exploit this behavior in order to help APHIS meet its goals of early detection and mitigation of invasive pests," he said.
The researchers said their next step will be to further improve the traps to maximize their potential as part of an early detection tool for emerald ash borers.
"Our laboratory has ongoing research with the USDA Animal Plant Health Inspection Service into remote-reporting, Internet-based technologies, and we will be working to couple this research with our ash-borer detection technique so that activity of the pest can be reported and assessed immediately by APHIS personnel, rather than waiting days or weeks until a trap might usually be checked," said Baker.
In addition, the team has been investigating the use of the decoys to attract other insect species, some of which are aggressive feeders on oak trees in central Europe and might threaten North American oaks in urban and forest landscapes much as the emerald ash borer destroyed ash trees.
"We have made progress in our research so far in Hungary these past few summers, and it looks like our decoys can be refined to attract and detect these other, new and potentially invasive pest species effectively," said Domingue.
Other authors on the paper include Drew Pulsifer, recent graduate student in engineering science and mechanics; Loyal Hall, graduate student in entomology; John Badding, professor of chemistry; Jesse Bischof, graduate student in chemistry; Raul Martin-Palma, adjunct professor of materials science and engineering; and Missy Hazen, research technologist, Huck Institutes of the Life Sciences; all of Penn State; and Zoltan Imrei of the Hungarian Academy of Sciences, Gergely Janik of the Forest Research Institute in Matrafured, Hungary, Victor Mastro of the USDA.
The USDA and the Hungarian Academy of Sciences supported this research.
Source:
Penn State News

ESM professor Cliff Lissenden will discuss "Multi-Sensor Inspection and Robotic Systems for Dry Storage Casks" at the
Nuclear Engineering Seminar Series
this Thursday, September 18, at 4:00 p.m. in 135 Reber Building.
Please direct any questions regarding this seminar to Patti Burns at plb8@psu.edu.
Abstract:
The Nuclear Energy Universities Program recently awarded our integrated research project team comprised of seven faculty members from Penn State, Illinois, and South Carolina a $3M 3-year project on sensors and delivery devices for dry storage of used nuclear fuel. In this presentation I will describe the dry storage issues and our proposed solutions. These issues stem from the extension of dry storage as a short-term part of a closed fuel cycle to an indefinite part of an open-ended fuel cycle. Thus, the ability to monitor the condition of the storage systems for conditions conducive to degradation as well as inspect them for damage is increasingly important. Monitoring and inspection is quite challenging due to the harsh environment and very limited accessibility. Solutions to be discussed include: laser induced breakdown spectroscopy to sample surface chemical composition, ultrasonic transducers and nondestructive guided wave methods to detect stress corrosion cracking and other types of damage, development of a robotically guided wand system to deliver the sensors to the harsh environment inside the cask, robotic control systems as well as signal processing and data management, an autonomous ultrasonic sensing system for detection of deterioration in clad and unclad concrete, and radiation transport and heat transfer modeling to put the measurements into context.

Long-Qing Chen, Distinguished Professor of Materials Science and Engineering and Engineering Science and Mechanics, has received the Materials Research Society (MRS) 2014 Materials Theory Award.
The Materials Theory Award recognizes exceptional advances made by materials theory to the fundamental understanding of the structure and behavior of materials. The Materials Theory Award Subcommittee recommended, and the MRS Board approved, that Chen be presented with this award "for pioneering work in the development of phase-field method and its applications in the computational modeling of mesoscale structures and their dynamics in inhomogenous materials."
The Award consists of a $5,000 cash prize, presentation trophy, and citation certificate and will be presented to Chen at the Awards Ceremony held during the 2014 MRS Fall Meeting.