Archives
You are currently viewing the archive for March 2015
Posted by:
mus41
on Mar 26, 2015
Mason Alan Peck
Department of Mechanical and Aerospace Engineering, Cornell University

Wednesday, April 1, 2015
3:35pm - 4:25pm

114 EES Building

Abstract:
A number of exciting trends in technology have us all thinking about the future of space and our place in it. Entrepreneurial space companies are building rockets, earth-observation satellites, satellite-servicing platforms, and asteroid-mining robots. There are private plans to send people into orbit, to the Moon, and to Mars in the coming decade, most of which will happen with the support of venture capital, not the more familiar government funding. At the same time, NASA has returned to its innovation roots, sponsoring the development of new technologies to push the boundaries of science and exploration. And it's now commonplace for universities, even some high-school students, to build small satellites for research and education. Add to the mix that individuals--members of the so-called Maker community--are passionately taking ownership of technology development, and we find that using 3D printers and other cutting-edge additive-manufacturing technologies can accelerate the pace of putting hardware into orbit. In this new world, universities use spacecraft systems-engineering paradigms borrowed from consumer electronics to reject the decades-old principles that drive cost and schedule for spacecraft engineering. We can personalize exploration to produce research results with broad intellectual and societal impact that will change the face of our planet and beyond if we embrace the opportunities that small, agile space projects bring. This talk describes some fundamentals of space-system architecture that will make this change happen: design principles for very small spacecraft, the use of in-space resources to build exploration infrastructure across the solar system, and how crowdsourcing can help us explore in ways we have never done before.
Posted by:
mus41
on Mar 20, 2015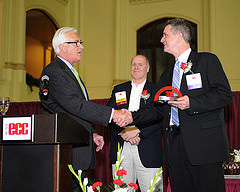 On March 12, the Center for Nanotechnology Education & Utilization (CNEU) received the Trustees' Award given by Erie Community College in Buffalo, NY "in recognition of outstanding leadership in higher education." The award was presented as part of Erie Community College's Celebrate ECC event, in Buffalo, NY.
CNEU developed the Pennsylvania Nanofabrication Manufacturing Technology (NMT) partnership to provide students in community and baccalaureate colleges hands-on nanotechnology workforce training at the Penn State University Park campus nanofabrication and characterization facilities. Since the program's inception, over 800 Pennsylvanians from diverse science, engineering and technology disciplines have completed the on-site 18 credit capstone semester. CNEU capstone semester graduates are employed in micro- and nanotechnology jobs at over 150 companies from a wide variety of industry sectors
Posted by:
mus41
on Mar 19, 2015
Panagiotis Michaleris
Department of Mechanical and Nuclear Engineering, PSU

Wednesday, March 25, 2015
3:35pm - 4:25pm

114 EES Building

Abstract:
Additive manufacturing (AM) has the potential to produce parts directly out of complex Computer Aided Design (CAD) files, which enables the direct manufacturing of geometries generated by topology optimization without the cost and delay of tooling as required for other processes such as forging and casting. However, distortion during part cooling negates the net shape potential of the process as overbuilding and follow on machining is commonly used to bring back parts into shape. Excessive distortion and part failure during manufacturing also commonly occurs causing process interruptions and part rejection. Due to the lack of effective and efficient modeling tools, the current approach to the design of AM processes is 100% experimental. In this work, thermo-mechanical modeling of AM processes is investigated to enable the virtual design and optimization of AM processing which will lead to reduced process design time, improved part performance, and reduced cost through a transition from an experimental-based to a model-based process design. Extensive model validation has been performed on Direct Energy Deposition systems such as the Electron Beam Direct Manufacturing (EBDM) by Sciaky and the Laser Engineered Net Shaping System (LENS) by Optomec and model validation on powder-bed systems is currently underway.

Dr. Joseph Rose, Paul Morrow Professor of Engineering Science and Mechanics, received the 2014 Mentoring Award from the American Society for Nondestructive Testing (ASNT) at the group's October conference in Charleston, SC.
This award seeks to "recognize people in the Society working to encourage others to reach goals they may have otherwise not sought and to offer the rest of the membership and example of what they could be accomplishing by acting as mentors." Congratulations Dr. Rose!
Posted by:
mus41
on Mar 17, 2015
Amar Kamat, a PhD candidate in the ESM department has been selected for the
2015 RISE Professional program
, which is supported by the German Federal Ministry of Foreign Affairs.
The goal of the program is to "create unique opportunities for science and engineering students from the United States and Canada interested in gaining serious practical experience in Germany." Mr. Kamat will be working at BASF SE in Ludwigshafen, Germany from May to August on a project entitled "Modeling of polyurethane (PU) polymerization processes."
A feature story on this achievement can be found
here
.
The 12th annual ESM Today Graduate Research Symposium was held on February 28th. ESM Graduate students presented research talks and posters which were judged by panels of faculty throughout the day.

Research presentations were split into two groups, with first prize going to Abdon Pena-Francesch's paper "Thermal processing of recombinant squid proteins for materials fabrication" and Andrew Geronimo's "Cognition affect brain-computer interface utility in people with amyotrophic lateral sclerosis." First prize for the poster presentation was awarded to Amar Kamat for "Feasibility of using laser-sustained plasma for nitriding of commercially pure titanium." A full list of winners can be found at the end of this article.

The yearly ESM Today program also includes a keynote speech from a notable ESM alumnus. This year the keynote speaker was Dr. Renata Engel, Associate Vice Provost for Online Programs here at Penn State.

ESM Today was organized by the ESM Graduate Council, including officers Amar Kamat, Sema Erten, and Chandraprakash Chindam.

Room 114 Paper Presentations
1st Place Abdon Pena-Francesch
2nd Place Stephen Swiontek
3rd Place Nitesh Nama

Room 116 Paper Presentations
1st Place Andrew Geronimo
2nd Place Huilong Hou
3rd Place Justin Kauffman

Poster Presentation
1st Place Amar Kamat
2nd Place Wuttichai Reainthippayasakul
3rd Place Vasmshi Chillara

Posted by:
mus41
on Mar 5, 2015
Edward W. Reutzel
Applied Research Laboratory & Department of Engineering Science and Mechanics, PSU

Wednesday, March 18, 2015
3:35pm - 4:25pm

114 EES Building

Abstract:
Additive Manufacturing of metal components is complex undertaking, typically require hundreds or thousands of individual laser or electron-beam deposits. During processing, fluctuating conditions, e.g. material feed rate, beam power, surrounding gas composition, local and global temperature, and build geometry, can lead to variations in final part geometry, microstructure and properties. In order to OEMs to have confidence that the component is produced correctly the first time and every time, it is critical to be able to monitor, asses, and control as-deposited geometry, microstructure and properties. Researchers are investigating a wide range of methods to accomplish this, such as sensing of melt pool size, temperature or layer build-height, and control of processing-head position, substrate tilt, processing speed, filler-material feed-rate, or beam power. This lecture will provide an introduction to metal-based additive manufacturing, will survey applicable sensing and control research, and will highlight ongoing research at PSU.
Posted by:
mus41
on Mar 3, 2015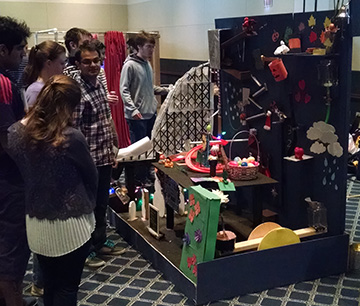 Congratulations to the Society of Engineering Science (SES) team for winning first place in this year's Rube Goldberg Competition. The team was able to complete the set task of erasing a blackboard with a 38 step contraption with a theme of "Holidays Throughout the School Year."
All teams were allowed two runs for the judges, and the SES device had a flawless second run that took under 2 minutes. Members of the team included Greg Rissler, Sarah Masters, Yaman Trivedi, Ibrahim Al'Abri, Ryan McFadden, John Berstein, Dan Henderson, Chris Klarides, Claire Rosenberger, Rebecca Terosky, and Matthew Wehner.
The team, advised by Dr. Lucas Passmore, and sponsored by ESM Alum Glen Chatfield ('65) will travel to Columbus, Ohio next month for the national finals.
For more information on the contest and team, see the Penn State News article
here
.