Archives
You are currently viewing the archive for May 2015
Posted by:
mus41
on May 29, 2015

Patrick Drew, Assistant Professor of ESM and neurosurgery is one of the investigators on a grant which was just awarded by NIH to study craniofacial malformations.
This achievement was featured by Penn State News this week. The full story can be found
here
.
Posted by:
mus41
on May 29, 2015
Congratulations to Stephen Swiontek, a PhD. candidate in Dr. Akhlesh Lakhtakia's research group. He has been awarded an
SPIE
Optics and Photonics Education Scholarship for 2015.
SPIE is an international non-profit society with the goal of "advancing and interdisciplinary approach to the science and application of light."
Posted by:
mus41
on May 22, 2015

Congratulations to Dr. Steven Schiff, Director of the Center for Neural Engineering and Brush Chair Professor of Engineering, whose proposal for control of neonatal sepsis and infant hydrocephalus has been recognized with the NIH Director's Pioneer Award.
This award " supports individual scientists of exceptional creativity who propose pioneering and highly innovative approaches with the potential to produce an unusually high impact on biomedical or behavioral research." More information about the program can be found
here
.
Dr. Schiff's achievement has been highlighted in a
Penn State news article
.
The work Dr. Schiff is doing was also highlighted in a
feature story
in the current issue of the Penn State Materials Research Institute's Focus on Materials.
Penn State news has featured a story and video on Swajal, a clean water program designed by EE Student Advait Kumar. ESM professor Dinesh Agrawal has worked with Kumar and appears in the video.
The story and video can be found
here
.
Posted by:
mus41
on May 13, 2015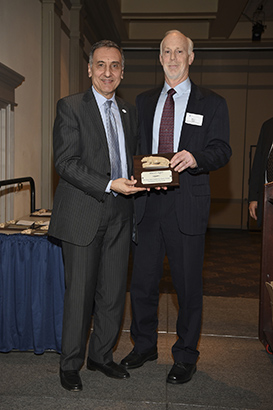 Congratulations to Dr. Al Segall, Professor of Engineering Science and Mechanics on being recognized with the 2015 Penn State Engineering Alumni Society Outstanding Teaching Award.
The awardees were honored with a reception and dinner in April, and an album of event photos can be found
here.