Archives
You are currently viewing the archive for October 2015
Posted by:
mus41
on Oct 30, 2015
Akhlesh Lakhtakia
Penn State ESM

Wednesday, November 4, 2015
3:35pm - 4:25pm
114 EES Building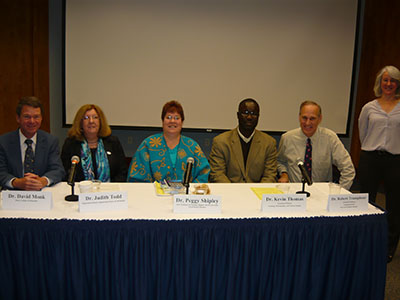 Dr. Judith Todd, the P.B. Breneman Chair and and Professor of Engineering Science and Mechanics served on an Academic Job Search Panel this past Saturday, October 24th.
The panel, entitled Navigating the Academic Job Search/Tenure Process was part of a Career Exploration Workshop produced by the Penn State Graduate School. Representatives from many University units were on hand to provide current graduate students with insight into how faculty searches are conducted.
Posted by:
mus41
on Oct 16, 2015

Congratulations to Dr. Huanyu Cheng, on being selected to receive one of five 2015 Haythornthwaite Research Initiation Grant. This grant program targets university faculty engaged in research in theoretical and applied mechanics that are at the beginning of their academic careers.
These grants are supported by funds from the Haythornwaite Foundation and awarded by the Executive Committee of the Applied Mechanics Division of ASME. Dr. Cheng will be recognized at the IMECE banquet later this year.
Posted by:
mff3
on Oct 7, 2015
Piervincenzo Rizzo
University of Pittsburgh

Wednesday, October 7, 2015
3:35pm - 4:25pm
114 EES Building

In the last two decades it has been demonstrated that highly nonlinear solitary waves (HNSWs) propagating in
chains of granular particles can be used in many physics and engineering applications, including acoustic
lenses, impurity detectors, and nondestructive testing (NDT). HNSWs are compact nondispersive waves that
propagate in nonlinear medium such as 1D chains of spherical particles. In this seminar the application of
HNSWs for nondestructive testing and energy harvesting is presented. The non-invasive assessment of
cement and concrete strength and the evaluation of thermal stress in slender beam is discussed. Then, it is
discussed the use of an array of granular chains supporting the propagation of HNSWs coupled to a wafertype
lead zirconate titanate (PZT) transducer to harvest energy from the vibration of an object tapping the
array. The array of granular chains is in contact with a polycarbonate block, where the nonlinear waves
become linear and coalesce at a designed focal point. Here, the PZT converts the acoustic energy into
electricity to power a load resistor. The performance of this harvester is compared to a similar system where
the chains of particles are replaced by solid rods, and the results demonstrate that the granular system
generates more electricity.
Posted by:
mus41
on Oct 2, 2015
Dr. Akhlesh Lakhtakia, the Charles Binder Professor of Engineering Science and Mechanics, will be presenting a talk entitled "Better than Fakin it Good: Multifunctional Bioreplication" at the OSA Frontiers in Optics conference later this month.