Archives
You are currently viewing the archive for March 2016
Posted by:
mus41
on Mar 30, 2016
Akhlesh Lakhtakia
Department of Engineering Science and Mechanics, PSU

Wednesday, April 13, 2016 3:35pm - 4:25pm
114 EES Building
Posted by:
mus41
on Mar 29, 2016
UNIVERSITY PARK, Pa. – Melissa Showalter, coordinator for alumni, development, and advancement in the Department of Engineering Science and Mechanics (ESM), has been named a recipient of the 2016 Penn State Engineering Alumni Society (PSEAS) Rising Star Award.
Paul Humphreys, assistant to the department head in the Harold and Inge Marcus Department of Industrial and Manufacturing Engineering, is the other recipient of the award.

The Rising Star Award recognizes individuals who have worked within the College of Engineering less than two years and have shown great promise in his/her positions while demonstrating exceptional job performance.
Individuals are nominated by engineering staff, students, faculty, and administrators and those nominations are reviewed by a committee, appointed by the dean, which is comprised of PSEAS representatives and the director of alumni relations.
Showalter joined the ESM staff in November 2014 after serving as administrative support coordinator for the College of Agricultural Sciences where she supported research initiatives for the associate dean for research and graduate education.
Her responsibilities within the ESM department include: coordinating alumni activities and special events such as alumni guest speakers, Outstanding Engineering Alumni activities, and the ESM Golden Decade Alumni Reunion, and supporting the department's Industrial and Professional Advisory Council and alumni board.
Showalter also provides backup support to P. B. Breneman Department Head Chair Judith Todd, acts as the department liaison to the college's office of Development and Alumni Relations, and assists with departmental communications.
Prior to joining Penn State in 2008, Showalter conducted lab research in molecular microbiology and immunology at the Washington University School of Medicine in St. Louis.
All PSEAS award winners will be formally recognized and presented with their awards during a reception on April 27 at the Nittany Lion Inn.
For a full list of 2016 PSEAS award winners, click
here
.
Posted by:
mus41
on Mar 24, 2016

Tony Huang, professor of engineering science and mechanics and Huck Distinguished Chair in Bioengineering Science, and his research group have created an acoustofluidic rotational manipulation (ARM) method that traps bubbles in a series of small cavities inside a microfluidic device. This ability to rotate single particles, cells or organisms using acoustic waves will allow researchers to take three dimensional images with only a cell phone. Read more
here
.
Posted by:
mus41
on Mar 23, 2016
Igor Smolyaninov
Department of Electrical and Computer Engineering
University of Maryland

Wednesday, April 6, 2016 3:35pm - 4:25pm
114 EES Building

Abstract. Hyperbolic metamaterials were originally introduced to overcome the diffraction limit
of optical imaging. Soon thereafter it was realized that hyperbolic metamaterials demonstrate a
number of novel phenomena resulting from the broadband singular behavior of their density of
photonic states. These novel phenomena and applications include super resolution imaging, new
stealth technologies, enhanced quantum-electrodynamic effects, thermal hyperconductivity,
superconductivity, and interesting gravitation theory analogues. I will review typical material
systems, which exhibit hyperbolic behavior and outline important applications of hyperbolic
metamaterials.


Bio. Dr. Igor Smolyaninov is a Fellow of the Optical Society of America and a recipient of the
Scientific American 50 Award. He graduated from the Moscow Institute of Physics and
Technology in 1985 and received his PhD in 1990 from the Kapitza Institute for Physical
Problems of the Russian Academy of Sciences. He has published more than 350 journal and
conference papers in various areas of surface optics, plasmonics, and electromagnetic
metamaterials.
Posted by:
mus41
on Mar 16, 2016
Scarlett R. Miller
School of Engineering Design, Technology, and Professional Programs, PSU

Wednesday, March 30, 2016 3:35pm - 4:25pm
114 EES Building

Abstract: Creativity is an essential part of design as without creativity there is no potential for
innovation. As such, design research has long sought to develop methods to enhance creative idea
development in the early phases of design through the study of ideation tools. While the goal of these
methods is to help designers generate a large quantity of effective solutions and explore a larger
solution space, the creative ideas developed through these methods are often rapidly filtered out
during the concept selection process with few making it to commercialization. Since the concept
evaluation process dictates which products to develop and which to abandon, the concept selection
process can be seen as the 'gate keeper' of creative ideas. In this talk, a series of empirical studies will
be discussed that outline the factors that contribute to the filtering of promotion of creative ideas
during the design process. In addition, a new Tool for Assessing Semantic Creativity (TASC;
tasc.engr.psu.edu) that has resulted from this research thread will be demonstrated.


Bio: Professor Scarlett R. Miller is an Assistant Professor of Engineering Design and Industrial
Engineering at The Pennsylvania State University. She also holds graduate appointments in the
Department of Mechanical Engineering and the College of Information Sciences and Technology.
Prior to joining the Penn State Faculty in 2011, she earned her BS and MS in Industrial Engineering
from the University of Nebraska-Lincoln and her PhD in Industrial Engineering from the University of
Illinois at Urbana-Champaign with a focus in Human-Computer Interaction.
Professor Miller's research interests are at the intersection of innovation, technology and
engineering. Currently, her work focuses on transforming the engineering design process in order to
promote the flow of creative ideas through this process. Her work has advanced our understanding
of how individual risk aversion, team composition and informal team discussions influence the
filtering or promotion of creative ideas throughout the design process. This work has also lead to the
creation of several interactive design tools for use in industry and academia.
Professor Miller has been recognized for her research in several ways including an NSF Faculty Early
Career Development (CAREER) award and the James F. Will Career Development Professorship.
More information about Dr. Miller and her research group the brite lab can be found at
www.engr.psu.edu/britelab.
Posted by:
mus41
on Mar 15, 2016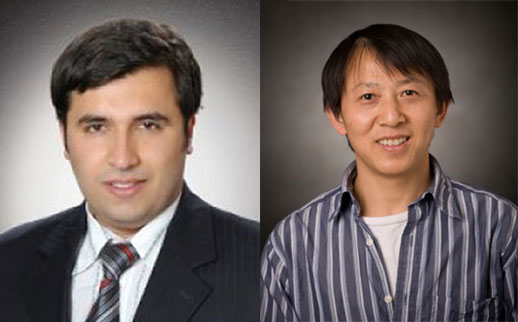 Ibrahim Tarik Ozbolat, associate professor of engineering science and mechanics; Sulin Zhang, associate professor of engineering science and mechanics and bioengineering; and Xiaojun Lian, assistant professor of biomedical engineering, were recently awarded a Multidisciplinary Research Seed Grant for their project "Engineering Reptile Tissues for Self-Locomotion."
Engineered tissue models have previously been demonstrated to power nonliving, inert components such as polymers; however, engineering a fully biological tissue, which will have its own circulatory system (i.e., blood vessels) and nervous system with long term viability and sensing capability, has not yet been demonstrated. Such tissues would have the ability to dynamically sense, adapt, and biomechanically respond to physical cues and applied stimuli.
The interdisciplinary research team of Ozbolat, Zhang, and Lian, which brings together complementary expertise in biofabrication, tissue engineering, cardiac engineering, stem cell biology, and soft tissue biomechanics, will investigate engineering fully biological locomotive reptile tissues. The tissues will have the ability to exhibit self-powered motion capabilities using synchronized contraction of cardiac cells, which can be further engineered biomechanically to exhibit programmable self-locomotion. Their groundbreaking research, and the first of its kind, will seek to demonstrate the first complete biological machine with the capability of untethered motion.
This transformative technology will have a wide variety of futuristic applications in both medicine and healthcare, including in-situ surgical robots with organ repairing capabilities within the human body, programmable tissue engineering, biomimetic machine design, smart drug release with targeted delivery, diagnostic machines in human circulatory systems, and biological devices for minimally invasive surgeries.
Funding for the project will begin July 1, 2016. The investigators will later collaborate with experts from the Penn State Center for Neural Engineering to integrate a nervous system with the biological tissues for improved sensing capabilities.
The Multidisciplinary Research Seed Grant program, administered by Penn State's College of Engineering, was established in 2014 and is designed to help faculty attract high-impact multidisciplinary and center-level research funding from the state and federal government, industry, or foundations. A total of 34 proposals were submitted for this year's program, with six projects awarded funding. You may view the full list of award winners
here
.
Posted by:
mus41
on Mar 2, 2016
Ivica Smid
Department of Engineering Science and Mechanics, PSU

Wednesday, March 23, 2016 3:35pm - 4:25pm
114 EES Building

ABSTRACT
Because of the affordability of high-performance computing, numerical methods have
become standard procedures in rapid product development, as well quality control
improvement and cost reduction in production. There is a growing need for adaptation of
basic numerical relations to nearly all applications, in changing environments––with
accelerating tendency. Increasingly, numerical methods are substituting expensive
experimental and safety commissioning procedures, allowing determination of
experimentally inaccessible properties & features, and enabling the design of more robust
& environmentally friendly structures. Selected examples will be discussed, predictions
for near-to-mid-term consequences will be attempted.


Ivy Smid joined Penn State in 2002. Before that he designed and tested high-heat flux
components for thermonuclear fusion reactors at various research establishments in the
US, Germany, France, Japan and Austria. His current research includes metallurgy and
processing, as well as design and characterization of: particulate materials, high velocity
particle coating, MMCs, and refractory metals. He is active in process and property
modeling, focusing on extremely high-strain-rate deformation, developing tools for the
prediction of material properties and failure mechanisms. He teaches courses in
mechanical behavior of materials, numerical methods in engineering, and FE modeling.
Posted by:
mus41
on Mar 1, 2016
Congratulations to the Society of Engineering Science team, which won the Rube Goldberg contest for the second year in a row. The team also won the People's Choice Award.
See the full story on
PSU News.
Posted by:
mus41
on Mar 1, 2016
ESM Today 2016, the 13th Annual Engineering Science and Mechanics Research Symposium, was held on Saturday, February 27, 2016, in the lobby of the EES Building on University Park campus. The event, organized by the ESM Graduate Student Council, gives graduate students the opportunity to present their work through oral and poster presentations to peers, colleagues and faculty; exchange ideas across the various research disciplines; and hone their presentation skills.
Over 60 people attended this year's event, and 31 students gave a total of 10 oral presentations and 16 poster presentations. Presenters are required to explain their work in a way that is easily understandable to both engineers and scientists who are not specialists in a presenter's discipline. ESM faculty served as judges throughout the day.
Oral presentations were split into two groups, with first prize in Group 1 going to Adem Ozcelik for his paper titled "Rotational Manipulation of Single Cells and Organisms Using Acoustic Waves." First prize in Group 2 resulted in a tie between Christine Truong for her paper titled "Feeling the Flow: Optical Diagnostic Techniques to Characterize Turbulent Behavior" and Nitesh Nama for his paper titled "Experimental and Numerical Investigation of Surface Acoustic Wave Driven Microparticle Acoustophoresis." Amir Aref took home first prize in the poster contest with "Development of High Energy Density Electrochemical Capacitors for Low Power Energy Harvesting Platforms."
The full list of 2016 winners includes:
Oral/Paper presentations in room 114 EES:
1st place Adem Ozcelik
2nd place Nick Labarbera
3rd place Joseph Nasr
People's Choice Justin Kauffman
Oral/Paper presentations in room 116 EES:
1st place Christine Truong and Nitesh Nama (tie)
2nd place
3rd place Anniruddh Vashisth
People's Choice Anniruddh Vashisth
Poster presentations:
1st place Amir Aref
2nd place Andy Suprock
3rd place Faye Kim
People's Choice Wuttichai Sai
To view all presentation abstracts, click
here
.
The day's events also included an opening keynote speech from Andrew (Mike) Erdman, ESM alumnus and Walter L. Robb Director of Engineering Leadership Program within the Penn State School of Engineering Design, Technology, and Professional Programs.
View photos
from ESM Today 2016 on the Penn State ESM Facebook page.