Archives
You are currently viewing the archive for August 2016
Posted by:
mus41
on Aug 31, 2016
Timothy J. Eden
Applied Research Laboratory, PSU

Wednesday, September 7, 2016 3:35pm - 4:25pm
103 Leonhard Building

Abstract:
Cold Spray is a maturing technology that can be used to deposition thick layers of metal or metal- composite powders on metallic and ceramic materials. In the Cold Spray process, powders are injected into a stream of high pressure, high temperature gas. The gas expands through a converging-diverging nozzle to supersonic conditions. The particles are accelerates to speeds up to 700 m/s. The particles impact the base material and undergo severe plastic deformation and bond to the substrate or to previously deposited powders. The particles remain in the solid state during the deposition process. Advantages of the process include excellent adhesion strength, high density, low heat input and no compositional or phase changes. The process has been used to deposit a wide range of metal and alloys including aluminum, aluminum alloys, copper, nickel, nickel alloys, brass, bronze and composite powders. The fundamentals of the Cold Spray process will be explained. Several different applications for corrosion prevention, improved wear, enhanced heat transfer, additive manufacturing and dimensional restoration will be presented. Finally FEA modelling of the deposition process and cost modeling will be presented.

Bio:
Dr. Eden is the head of the Materials Processing Division at the Applied Research Laboratory, an Associate Professor of Engineering Science and Mechanics and a member of the Materials Research Institute and the Center for Innovative Sintering Processes at the Pennsylvania State University. He received a B.S. in Mechanical Engineering from the University of Utah in 1985, and a Ph.D. in Mechanical Engineering in 1986 and 1996, respectively from the Pennsylvania State University. The Materials Processing Division is composed of the Metals and Ceramics Processing Department, the Advanced Coatings Department, the Electronic Materials and Devices Department, the Drivetrain Center and the High Pressure Test Facility. His areas of active research are in Cold Spray, Spray Metal Forming of Aluminum alloys, corrosion and wear mitigation, thermal treatments of metals for improved performance, functionally tailored materials for armor and ballistic applications, thermal management and wear and tribology. Other areas of research include steam-aluminum combustion, pyrotechnic development and testing, Computational Fluid Dynamics, mechanical properties of solid rocket propellant, IR sensing and nondestructive testing. He is a reviewer for four technical journals and is on the editorial committee for the Journal of Thermal Spray Technology.
He is a recognized leader in the development and application of Cold Spray Technology. He is a board member of the Department of Defense Cold Spray Action Team, a member of a multi-university imitative to model the complete Cold Spray process and received the 2012 Defense Manufacturing Technology Achievement Award for Restoration of Aerospace Parts by Cold Spray and was a member of the team that was recognized as the 2012 Environmental Security Technology Certification Program project of the year for Supersonic Particle Deposition Repair of Magnesium Transmission Housings. Dr. Eden research in Cold Spray includes process development, equipment design and fabrication, powder production, process modeling, impact modeling, nozzle design, cost modeling, mechanical testing, application development and technology transfer. He has developed Cold Spray processes for corrosion resistant coatings, wear resistant coatings, reactive materials, self-lubricating coatings and porous coatings for enhanced boiling heat transfer. He has successfully transitioned Cold Spray technology and repairs to Industry and the Department of Defense.

Posted by:
mus41
on Aug 25, 2016
Aniruddh Vashisth, doctoral candidate in engineering science and mechanics, was named one of four Penn State College of Engineering Distinguished Teaching Fellows for the 2016-17 academic year! See the full story
here
.
Posted by:
mus41
on Aug 24, 2016
William D. Burgos
Department of Civil and Environmental Engineering, PSU

Wednesday, August 31, 2016 3:35pm - 4:25pm
103 Leonhard Building

Abstract:
Combining horizontal drilling with high volume hydraulic fracturing has increased the extraction of
hydrocarbons from low-permeability oil and gas (O&G) formations across the US. This increase in O&G
production has been accompanied by an increase in wastewater production. In 2009-2010, more than
50% of the Marcellus Shale wastewater generated in Pennsylvania was treated by centralized waste
treatment plants (CWTs) and 42% of these CWTs had permission to discharge to surface water. Surface
water discharge of O&G wastewater poses risks to aquatic and human health from contaminants in the
water column and sediments. Lake sediments in areas of O&G wastewater disposal provide an
opportunity to develop tools for environmental forensics. Using a Vibracore sampling package, we
collected well-laminated, >2-m long, intact sediment cores from the Conemaugh River Lake of western
Pennsylvania. Cores were flash frozen, transported to Penn State, sectioned, thawed, and analyzed by a
number of techniques. We found Conemaugh River Lake sediments and porewaters to contain elevated
concentrations of radium, barium, strontium, bromide, and specialty organics. O&G wastewater from
two large CWTs has been discharged into the Blacklick Creek upstream of the Conemaugh River Lake.
Using a preliminary sediment age model based on 228Ra and 210Pb we found that the peak concentration
of many of these contaminants corresponded to 2007 – 2011 when the highest volumes of O&G
wastewater were discharged into the watershed. In this case, surface water disposal of O&G wastewater
impacted sediments 10 km downstream of the CWT plants. This seminar will describe our research
methods, results, interpretations, and implications for future O&G wastewater management strategies.

Bio:
Bill Burgos received his PhD in Environmental Engineering from Virginia Tech. His research focuses on the
biogeochemistry of metals and radionuclides and the bioremediation of organic contaminants. His research has
focused on the biological reduction of iron oxides, iron-bearing clay minerals, and uranium in subsurface environments, and
the biological oxidation of Fe(II) and Mn(II) in mine drainage. He has recently begun conducting research on the environmental impacts of shale gas development. He is on the Editorial Advisory Board of Environmental Science & Technology Letters and is the Program Chair Elect of the Geochemistry Division of the American Chemical Society.
Posted by:
mus41
on Aug 17, 2016
Michael Lanagan
Department of Engineering Science and Mechanics, PSU

Josh Stapleton
Materials Characterization lab, PSU

Wednesday, August 24, 2016 3:35pm - 4:25pm
103 Leonhard Building
The ESM Recruitment by Industry Mixer will be held on Wednesday, September 14th from 5:30-7pm in the lobby of the EES building. This is a great opportunity for ESM students and industry representatives to meet in a more focused setting to discuss jobs, internships and coops. Participating companies will receive a resume book with information on all attending students.

The deadline for companies to register is September 2.

For more information, contact Melissa Showalter at mus41@psu.edu.
Posted by:
mus41
on Aug 10, 2016
Zane Cohick, a doctoral candidate in the Department of Engineering Science and Mechanics, was recently awarded a 2016 Student Travel Grant by the Institute of Electrical and Electronics Engineers (IEEE) for the 43rd IEEE International Conference on Plasma Science (ICOPS) held in June in Banff, Alberta, Canada.
Cohick was selected to present his research on Split-Post Dielectric Resonator Plasma Generators which is focused on generating plasmas using dielectric resonators since they offer low energy losses at high frequencies, where metamaterials may operate.
One of the limitations of metamaterials that researchers have been trying to overcome is the narrow bandwidth in which they often function. By replacing the traditional metal components of metamaterials with plasmas, it may be possible to rapidly tune metamaterials to work at many frequencies from GHz to THz range. This tunability arises because plasma properties can be controlled via parameters such as input power and pressure.
Cohick's
research poster
explains the goals of his research, which include reducing energy loss, remotely igniting plasmas, and reducing power.
The ICOPS 2016 Student Travel Grants are made possible by the support of the U.S. Department of Energy Office of Science, the U.S. National Science Foundation, SLAC National Accelerator Laboratory's High Energy Density Division, and the University of Alberta's Faculty of Engineering and Plasma Quebec.
Posted by:
mus41
on Aug 3, 2016
Akhlesh Lakhtakia, Charles Godfrey Binder Professor in Engineering Science and Mechanics, was named one of the Most Cited Researchers: Developed for ShanghaiRanking's Global Ranking of Academic Subjects 2016--in two areas.
http://bit.ly/29yTEnf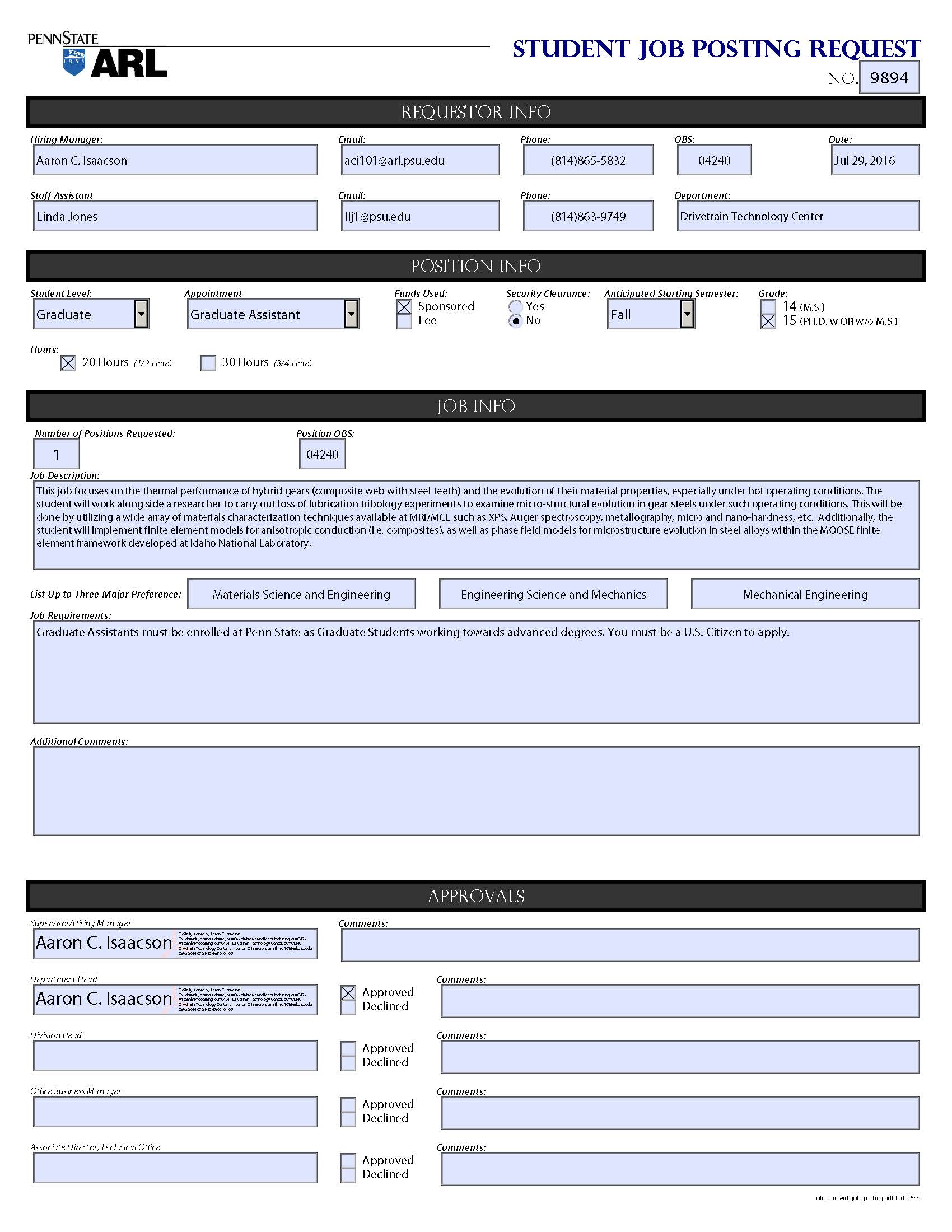 Posted by:
mus41
on Aug 1, 2016

What are the pros and cons of scaffold-free bioprinting? Associate Professor Ibrahim Ozbolat discusses them in detail in this online article from advanced manufacturing.org.
Read the article
.