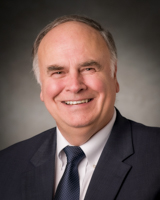 Erdman, Mike
Walter L. Robb Director of Engineering Leadership Development and Instructor of Engineering Science & Mechanics.
Office phone: (814) 863-9074
Office address: 213E Hammond Building
Office hours: Monday, Friday: 10:00 - 12:00pm
Office hours location: 213E Hammond Bldg
E-mail: ame17@psu.edu

---
Educational Background
M.S., Mechanical Engineering, University of Southern California, 1972
B.S., Engineering Science, Penn State, 1969
Years of Service with Penn State
June 2012 – Present

Walter L. Robb Director of Engineering Leadership Development

Aug 2011 – Present

Instructor, Engineering Science and Mechanics
Other Related Experience — Teaching, Industrial, Etc.
Apr 1972 – Feb 2006

Manager, Fluid Dynamics Technology Manager, Experimental Engineering Manager, Reactor Safety Analysis Lead Engineer, Thermal Hydraulic Development & Test

, Knolls Atomic Power Laboratory, Division of General Electric/Lockheed Martin, Schenectady NY

May 1969 – Apr 1972

Engineer, Advanced Projects

, Rocketdyne, Los Angeles, California
Recent Principal Publications
Kirsten Hochstedt, Richard John Schuhmann, and Andrew Michael Erdman (2013) "Learning Expectations and Outcomes for an Engineering Leadership Principles Class," 120th ASEE Annual Conference & Exposition.
Consulting, Patents, and Scientific and Professional Society Memberships
American Society for Engineering Education, Member (2012 – Present)
American Institute of Aeronautics and Astronautics, Life Member (1970 – Present)
American Society of Mechanical Engineers, Fellow (1970 – Present)
Professional Licenses or Certifications
Certified Instructor, MBTI, Kiersey Temperaments, Strength Deployment Inventory, Apter Reversal Theory, Zenger Miller Team Skills, Negotiation, Meeting Facilitation/Arbitration; Lean/Six Sigma Black Belt, 1995
Recent Institutional and Professional Service
Currently Vice President , to be President as of June, 2014, Penn State Engineering Alumni Society (June 2011 – Present)
- Volunteer lecturer for the Professional Leadership Program (undergraduate leaders across the Institute), Professional Leadership Series (graduate students) and PSU student groups, RPI and Penn State (Aug 1980 – Present)
President Schenectady Jaycees Member Schenectady Chamber of Commerce Board of Directors Vice President, Human Services Planning Council Chairman of Schenectady County Department of Social Services Advisory Council Chairman of Schenectady General Ele, Various other community organizations (Jan 1972 – Present)
Login to Edit