Install Printer Franklin to Macintosh
Click the thumbnail below for a video of the process.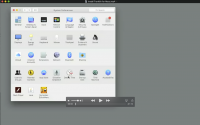 To add the printer, open "System Preferences", then select "Printers and Scanners".
Select the "add printer" button (a plus + sign), then select "add printer or scanner".

Select "IP" for the type, then type in the address franklin.esm.psu.edu and select "Line Printer Daemon - LPD" for the protocol.

Select "Add" and wait for the driver to install. This process may take up to several minutes.

The printer is added, but you'll need to configure options. To do this, click the "Options & Supplies" button.

Under the "Options" tab, select the "Large Capacity Tray" from the pull down menu of the same name.

Under the Finisher menu, select "Finisher SR 4100".

This completes the setup, so select "OK".
Your printer is now installed.
---