Penn State Center for Neural Engineering
The Penn State Center for Neural Engineering, an intercollege center bridging the Colleges of Engineering, Medicine and Science, was Chartered in June, 2007. The Center occupies 22,000 square feet of space in the new Millennium Sciences Complex, a structure which brings together faculty and laboratories from Materials Science and Life Sciences at Penn State.
With the help of a P30 Research Core Center Grant from NIH in 2009-2010, "Innovations at the Intersection of Neural Engineering, Materials Sci & Medicine", we have continued to grow and recruit outstanding faculty to the Center. Our present complement in the new facility includes:
---
---
Schedules
CNE Weekly Schedule
Journal Club Schedule
Neural Engineering and Neuroscience Seminars and Conferences Schedule
News
2011
Ankit Jain will defend his master's thesis titled "Low-cost instrumentation and interface for neural recordings" on Wednesday 9/7/2011 at 2 pm, 127 EEE.
2010
Neural Engineering Program and Course Offerings
Courses
Research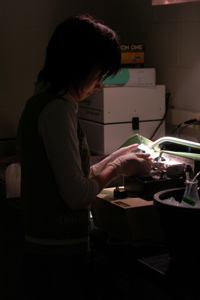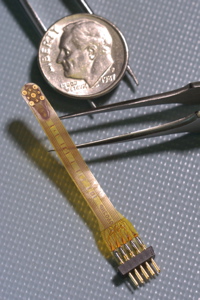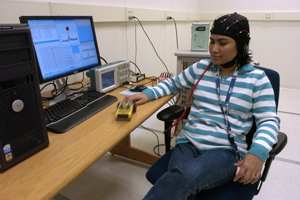 The Penn State Center for Neural Engineering is a university-wide Center, bridging the campuses and Colleges of Engineering and Science at University Park, with the College of Medicine at Hershey. It is housed within facilities of the Department of Neurosurgery and the Department of Engineering Science and Mechanics.
The Center is positioned to facilitate and enable collaboration between faculty from the Huck Institutes for the Life Sciences, Materials Research, and Neuroscience Institutes at Penn State, and forms a physical conduit for faculty and students from across the Engineering Departments, the Integrative Biosciences Neuroscience Program, Physics, Mathematics, and Biology, as well as trainees and faculty from Neurosurgery, Neurology, and Psychiatry. The Center has resident core faculty, with a considerable number of faculty Affiliates drawn from University Park and Hershey.
The Center enables the successful conduct of interdisciplinary research and acquisition of funding for projects that individual Penn State scientists could not perform on their own…
Detailed description of the Center for Neural Engineering
Penn State Medicine Magazine Article Winter 2006
Engineering the Brain, Materials Research Institute Bulletin, Fall 2007
Outreach
With support from a Grace Woodward Grant for Collaborative Research in Engineering and Medicine, we are developing active collaborations with scientists and physicians working on improving the diagnosis and treatment of neurosurgical diseases in East Africa.
Laboratory Resources
CNE Main Laboratory 301/302 EES (Schiff and Gluckman)

In Vitro neurophysiology scopes

Small animal surgical facilities

electrical device development

Neurovascular Lab (Drew)

Neural Materials (Abidian)

Poster printing locations:
Recent Awards and Honors
Anjum Parkar

Penn State College of Engineering Research Symposium (CERS): First Place Graduate Poster
April 2011
Neuronal Degeneration is Correlated with Implanted Neural Electrodes in Non-human Primates
Madineh Sedigh-Sarvestani

ESM Today 2/2009. First Place Platform presentation.

International Workshop on Seizure Prediction, June 4-7, 2009
" Using Polarizing Low-Frequency Electric Field Modulation to Probe Preseizure Dynamics"
Best Clinical Poster

Penn State Neuroscience Research Days, 11/2009. Second place Graduate Student Poster Presentation
Dana Lynn Andre

PSU Graduate Exhibition
"Mechanisms Determining Safety and Performance of Brain Stimulation Electrodes."
third place poster, Engineering category
Justin Ingram

Penn State Neuroscience Research Days, 11/2009. First place Graduate Student Poster Presentation
People
---