Multifunctional and Adaptive Materials Laboratory(MAML)
Dr. Reginald F. Hamilton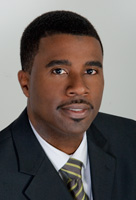 Assistant Professor
Department of Engineering Science and Mechanics
Pennsylvania State University
212 Earth-Engineering Sciences Building
University Park, PA 16802-6812

Office: 309D
Tel: 814-865-7684
Fax: 814-865-9974

Email: rfhamilton@psu.edu


Research Interests
Physical Behavior of Shape Memory Alloys

Microstructure Characterization

Underlying mechanisms-properties-processing relationships

Thermal and Mechanical Activation of Martensitic Phase Transformation

Experimental Solid Mechanics

Micro-mechanical Constitutive Modeling of Martensitic Phase Transformation
Education
2000-2008 University of Illinois, Urbana, IL

Ph.D. Mechanical Engineering 2008


M.S. Mechanical Engineering 2003

Graduate Advisor: Dr. Huseyin Sehitoglu, Dept. Engineering Mechanics & Science, UIUC
1993-1998 Southern University, Baton Rouge, LA

B.S. Mechanical Engineering
Teaching, Research, and Professional Experience
Assistant Professor, Department of Engineering Science and Mechanics, PSU, Jan 2010-date

Post-doctoral Research Associate, Department of Mechanical Science and Engineering, UIUC, Aug. 2008- Dec. 2009

Teaching Assistant, Department of Mechanical Science and Engineering, UIUC, 2001-2004

Graduate Research Assistant, Department of Mechanical Science and Engineering, UIUC, 2000-2008

Instructor, Engineering Science, Parkland College, 2003
Synergistic Activities
Serving in ESM Undergraduate Curriculum Mechanics Review Committee

Serving in ESM Graduate Mechanics Candidacy Exam Committee

Serving in ESM Graduate Student Recruitment & Admissions Committee

Developed teaching module in digital image correlation for junior and senior level experimental stress analysis courses (EMCH 402, 506A).

Developed a graduate level elective course on "Thermo-mechanics of Shape Memory Alloys" for the Engineering Mechanics curriculum (EMCH 597A).

Continuously serving in M.S. and Ph.D Thesis committees.
Honors & Distinctions
College of Engineering SURGE Doctoral Fellow, University of Illinois, 2000-2006

The National GEM Consortium Fellow, University of Illinois, Sponsored by Lucent Technologies, 2000-2002

Southern University NASA Research Scholar, Southern University, 1998
Memberships in Professional Societies
American Society of Metals (ASM) – International
Journal Reviewer
Materials Characterization
---