Interactive Sample Project:
Pedestrian Bridge
Project Statement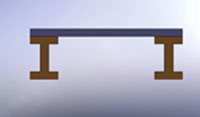 Section A-A: bridge deck and I-beams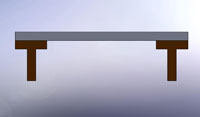 Section A-A: bridge deck and T-beams.
Section A-A: bridge deck and Box-beams.
Design beams for a simply supported pedestrian bridge.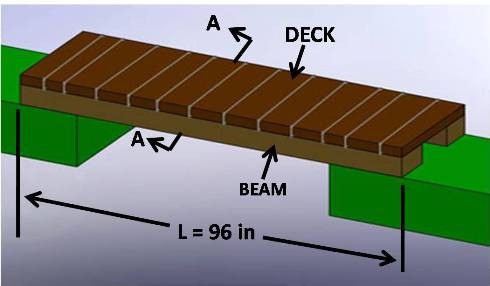 Design for flexural stress. Shear stress will not be considered here.
The bridge will be subjected to an 85 psf load from traffic[1].
The width of the bridge is 30 in and the length of the bridge is 96 in.
Determine the materials that comprise the supporting beams (I-beams, T-beams or Box beam).
The beams will be located as shown.
The factor of safety against failure is 1.2.
The deflection of the beam is limited to

L

/ 500 [1].
Continue to Concept Selection >>
---
---
This material is based upon work supported by the National Science Foundation under Grant No. 0633602. Any opinions, findings and conclusions or recomendations expressed in this material are those of the author(s) and do not necessarily reflect the views of the National Science Foundation (NSF).
---
© Copyright 1995-2023 — All rights reserved.
Pennsylvania State University
Department of Engineering Science and Mechanics
Send comments about this site to: webmaster@esm.psu.edu
---
Penn State is committed to affirmative action,
equal opportunity, and the diversity of its workforce.
This publication is available on alternative media on request.